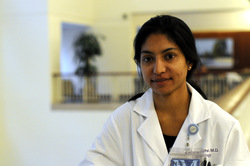 Amisha Patel, MD, cardiology fellow, received a Vanderbilt-Emory-Cornell-Duke (VECD) Fogarty Global Health Fellowship. Named for the sponsoring institutions, the program supports a one-year mentored research fellowship for clinical investigators studying diseases and conditions in developing countries.
Patel will use the fellowship during the next academic year to study India's pre-hospital systems of care in patients with acute coronary syndromes (ACS). ACS is a condition brought on by sudden, reduced blood flow to the heart, such as a heart attack or unstable chest pain.
"I'm very excited to pursue this research project and am grateful to have the support to do it," Patel said. "I always have been interested in research in non-communicable diseases in low- and middle-income countries. Cardiovascular disease is becoming rampant in these countries, especially India, and this project is a tremendous opportunity to study a topic of great public health importance."
Over the course of the year, Patel will hold focus group discussions and conduct interviews with providers and patients to identify factors that aid and prevent optimal pre-hospital ACS care. She will also use data from a clinical trial by Mark Huffman, MD, GME'09, assistant professor in Preventive Medicine-Epidemiology and Medicine-Cardiology to assess modifiable, pre-hospital factors that could have an impact on a patient's care in the hospital. Additionally, Patel will conduct a review of policies to identify potential gaps in pre-hospital ACS guidelines, regulations and laws.
"This is an exceptional accomplishment as she will be one of fewer than 20 Fogarty Fellows for 2014-2015," said Clyde W. Yancy, MD, Magerstadt Professor of Medicine and chief of Cardiology. "Amisha's success is exemplary of the great work being done by our fellows and the vigorous embrace of our academic goals by the group."