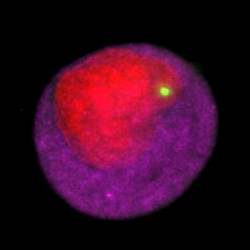 Raymond Bergan, MD, professor in Medicine-Hematology/Oncology and Preventive Medicine, looks to the bloodstream for answers on how cells transform into metastatic killers.
"When a woman gets a breast exam and a cancerous lump is discovered, it's not that lump that is going to kill her," said Dr. Bergan, co-director of the Northwestern Center for Molecular Innovation and Drug Discovery and director of experimental therapeutics at the Robert H. Lurie Comprehensive Cancer Center. "The problem is metastasis; when that cancer spreads, it's often too late to be controlled."
As cancer spreads, cells from a primary tumor enter the blood and move to other parts of the body.
"But detecting these cells in the bloodstream is really hard to do," Dr. Bergan said. "The technology is improving and our recent collaboration shows how the use of a very fine screen to separate circulating tumor cells (CTCs) will improve our ability to determine if new drugs are working."
Using microfiltration for the recovery of CTCs, the group of scientists from Northwestern University Feinberg School of Medicine and four other institutions discovered a new group of cells associated with the spread of cancer.
The findings were published in Proceedings of the National Academy of Sciences of the United States.
Although CTCs provide physicians with important information, they are not consistently found in some patients, even in later stage disease. In contrast, according to the authors, cancer-associated macrophage-like cells (CAMLs) are cancer specific biomarkers found in greater abundance in all stages of breast, prostate and pancreatic cancers.
Dr. Bergan's lab researches prostate cancer with a current focus on testing the effectiveness of genistein, a dietary component of soy, and a second drug discovered and patented at Northwestern.
"We're trying to discover drugs that inhibit metastasis. By using these microfilters we can see if they are working," Dr. Bergan said. "Measuring the presence of CAMLs in the blood will tell us if a drug has stopped the cancer from moving beyond the prostate."
The research was partially funded by an award from TEDCO and Creatv MicroTech Inc.