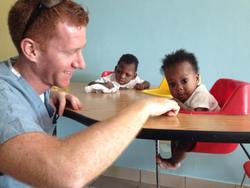 Last year, Julian D'Achille, MD'08, MPH, spent four days in Port-au-Prince, Haiti, with surgeons from across the country performing more than 36 operations, including hernia repairs, cyst removals and breast biopsies.
"The patients we interacted with were incredibly grateful for what seemed like very minor procedures to us," he said. "The doctors and nurses eagerly absorbed the knowledge and information that we provided. In turn, they taught us a lot about practicing medicine in an environment where resources are scarce, where treating one patient may mean the same treatment is not available for the next patient who needs it."
Dr. D'Achille attributes this passion for international health to his global health experiences at Northwestern University Feinberg School of Medicine.
Following his first year of medical school, Dr. D'Achille completed a six-week clinical elective at Stellenbosch University in Cape Town, South Africa, through the Center for Global Health. The program gave him an idea of what life is like as a physician in a developing country.
"Looking back on the experience, I realized how challenging the medical environment is in developing countries," Dr. D'Achille noted. "Here in the United States, we have virtually everything we need at our fingertips. If a patient needs a CT scan in the hospital, they get one without thinking about how to pay for it. The hospital in Tygerberg, South Africa, didn't have a CT scan, and x-rays were the diagnostic tool of choice."
At the time, Dr. D'Achille said he wanted to pursue a career in pediatrics, but quickly became enamored with surgery.
"My experience in South Africa was my first exposure to the operating room. The first minute I stepped into a surgery, it felt like home," he said.
His ultimate decision to pursue surgery came during his third-year clinical rotation.
"I enjoyed the four weeks with my attending and felt he embodied the person I wanted to be," he said. "I liked general surgery because every day was always a little different. My attending was a true general surgeon and did a little bit of everything. His patients absolutely loved him, and you could see the impact he had on their lives."
Dr. D'Achille continued exploring international health as a member of the student group Northwestern University's Alliance for International Development (NUAID). He traveled to Nicaragua during his fourth year of medical school to set up a primary care clinic and mobile pharmacy. At the clinic, the students learned about and practiced internal medicine, performing checkups and exams.
"The year I participated, there was a push to introduce public health measures in addition to traditional medical care," he said. "For example, many people in Nicaragua rely on burning wood as a primary fuel source for cooking. Wood burning is often done indoors. We cautioned people to cook outside if possible to prevent fires and their subsequent burns as well as inhalation injuries."
Dr. D'Achille and his peers also reinforced clean water practices and sanitation by providing chlorine tablets and reminding residents to boil water to kill harmful bacteria and parasites. They also taught safe practices for lifting heavy objects since many of the people worked in fields that required manual labor.
His clinical rotations also piqued his interest in public policy. But it was his general surgery residency at Tufts Medical Center where he gained an appreciation for how public health works and decided to pursue a master's degree.
Dr. D'Achille enrolled in the Master in Public Health in Health Policy and Management program at Boston University School of Public Health during his third year of residency. While in the program, he studied healthcare quality and patient safety and researched how to standardize processes within the Massachusetts Department of Health.
"During residency I began to appreciate how fragmented and hectic the medical system is," he said. "Physicians often complain about the healthcare system and how 'policy' impacts their day to day activities. It's not entirely their fault. Medical education focuses primarily on clinical medicine but rarely touches on the healthcare system as a whole. I knew that I wanted to be better prepared for the future and that I wanted to be actively involved in making a change."
As Dr. D'Achille finishes his last year in residency, he plans to complete a fellowship in plastic surgery and stay involved in health policy.
"I'm excited to move to the next stage of my career – it's a whole different volume of information to learn and completely different from general surgery," he said. "Ten years from now, I'll hopefully be a practicing plastic surgeon in an academic medical setting, teaching and interacting with fellows, residents and medical students. With that position, I hope to use my health policy experience by forging relationships with local and state regulatory agencies and by conducting clinical outcomes based research or quality improvement research, focusing primarily on patient safety and adverse event reduction."