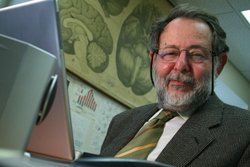 The American Academy of Neurology and American Brain Foundation have named M. Marsel Mesulam, MD, director of the Cognitive Neurology and Alzheimer's Disease Center (CNADC), the 2014 Potamkin Prize winner.
The award is given annually to a scientist for their work in helping advance the understanding of neurological disorders including Pick's disease and Alzheimer's. The $100,000 prize has become an internationally recognized tribute for advancing dementia research.
"This prize honors not only my work, but also the entire CNADC and the culture of multi-departmental collaboration at Northwestern," said Dr. Mesulam, the Ruth Dunbar Davee Professor in Neuroscience and professor in Neurology.
He will receive the award at the American Academy of Neurology's annual meeting in Philadelphia at the end of April. The meeting is the world's largest gathering of neurologists and features more than 2,500 scientific presentations on the latest research advances in brain disease.
"Understanding the complex brain abnormalities in dementias is an essential precursor to discovering a means for prevention and treatment. Once a neurodegenerative disease is evident, the damage that has occurred is irreversible," Dr. Mesulam said. "The only realistic goal is to prevent the disease or stop its progression and this can only happen if we understand the disease so well that we can either predict it before symptoms emerge, or if we can diagnose it at the very initial stages."
Dr. Mesulam's research has focused on describing primary progressive aphasia (PPA), a disease he discovered in the early '80s that impairs an individual's ability to access words.
"It was not all that long ago when the terms 'dementia' and 'Alzheimer's' were used synonymously and when memory loss was considered an invariant feature of dementia," he said. "This is no longer the prevailing opinion. We now know that there are multiple diseases that can cause dementia without Alzheimer's pathology or memory loss. Conversely, we are also finding out that Alzheimer's disease comes in different forms, some of which leave memory intact."
Throughout Dr. Mesulam's career, which includes 20 years at Northwestern University Feinberg School of Medicine, he has made major discoveries regarding the brain and what goes wrong in various forms of disease.
He is credited with devising a method that precisely maps connections in the monkey brain, introducing the basis of spatial attention in the human brain and discovering the neurological syndrome PPA.
His papers on those topics have been cited more than 45,000 times.
"The core question guiding all my work is what are the anatomical foundations of mental function and how are they disrupted by neurodegenerative diseases," he said. "Understanding the complex brain abnormalities in dementias is an essential precursor to discovering means for prevention and treatment."
Dr. Mesulam relies on the CNADC's bank of donated brains as an important resource for research. He recently published a paper on PPA in Brain using 58 such samples.
The goal of the Potamkin Prize is to attract the best medical minds and most dedicated scientists in the world to the field of dementia research.