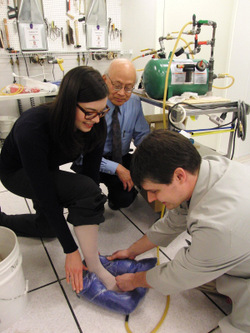 From plastic cups in Kenya to a carved tree branch in El Salvador, seeing homemade artificial limbs around the globe brought Yeongchi Wu, MD, research associate professor of Physical Medicine and Rehabilitation, to the realization that there must be a more sustainable and cost-effective way to build reliable devices.
"Most of the world lives in a developing nation and we must produce appropriate technology for these populations," said Dr. Wu, a member of the Northwestern University Prosthetics-Orthotics Center (NUPOC) and the Center for Global Health.
Wu, who began working on this project in the late '90s, focuses on dilatancy, an innovative fabrication technique he pioneered while he was director of the nonprofit Center for International Rehabilitation (CIR). The method capitalizes on the way granules maintain a rigid shape when air is removed, as seen with a block of vacuum-packed coffee beans. The contents remain inflexible within the package as long as the vacuum is not released.
"Western nations have used this method to store food for a long time," said Dr. Wu. "About a decade ago, we sought to perfect the dilatancy technique first investigated for prosthetic application by W.J. Mead in the 1940s."
With support from the CIR and NUPOC, Dr. Wu spent 10 years (1998-2008) working to minimize the cost, time, and waste associated with prosthesis fabrication. In 2011, he transitioned his focus to orthotics, collaborating with Christopher Robinson, MBA, CPO'06, assistant professor of Physical Medicine and Rehabilitation, and research assistant Larissa Conner, CO'12, to use dilatancy technology, rather than traditional plaster bandages, as the starting point for making molds.
"Taking the impressions is fast with either method, but modifying the actual mold and preparing it to make a device is much shorter using dilatancy," Conner said. "In a lot of developing countries, people are traveling great distances to go to a clinic, where they might be seen, have an impression taken and asked to return another day to be fitted."
The dilatancy technique eliminates the waste associated with plaster and allows practitioners to take an impression, make a mold and design a device in a single visit. It also allows for modifications by slightly releasing the vacuum, a step that is difficult and imprecise with hardened plaster.
Dr. Wu's system relies on a reusable bag filled with polystyrene beads or other granules to capture the shape of an individual's "stump" or residual limb. When the air is pulled from the bag and the bag is removed from the limb, it maintains its hollowed shape. This void is then filled to create a replica of the person's limb, which is used to produce an airtight socket for the prosthetic. The whole process for making a below-the-knee artificial limb takes less than two hours.
In 2007, the World Health Organization sponsored a workshop that introduced dilatancy technology in Bangkok, which was followed by two Rotary International- and BMVSS-sponsored workshops in New Delhi.  To date, Therdchai Jivacate, MD, of Prostheses Foundation in Chiang Mai, Thailand, has adapted the system for more than 7,000 prostheses. The technique even extended to the care of two elephants, which were fitted for prosthetic legs after land mine accidents. Their story is told in the award-winning documentary "Eyes of Thailand."
"Like the previous prosthetic dilatancy casting system, we hope that the emerging orthotic approach will result in significant reductions in time, cost and waste materials produced compared with conventional means," said Dr. Wu, who completed a certificate in prosthetics at NUPOC in 1984. "As an alternative to both plaster- and computer-based approaches, we believe that orthotic dilatancy methods will be attractive within resource-limited and healthcare-cost-containment environments."
Following completion of the developmental protocol and creation of training materials, Dr. Wu expects other scientists to independently evaluate the technique against the more traditional approaches.
"I believe the quality is the same or better and it will just be a matter of passing the knowledge along to trained practitioners," said Dr. Wu, citing immense interest from the Mexican government to bring the system there. "The orthotics work we are doing is very far along and it will be imperative to work with universities and institutions like NUPOC to teach this approach to future generations of students."
Dr. Wu's prior research on dilatancy technology for prosthetic sockets fabrication was supported by National Institute on Disability and Rehabilitation Research (NIDRR) grants H133E980031 and H133E030017. The current project is supported by NIDRR grant H133G110266.