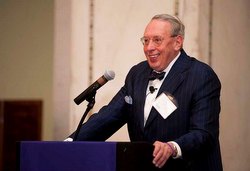 It was as though a stained-glass light bulb had gone off.
Standing under the world's largest Tiffany dome, Bradley Knight, MD, the Chester C. and Deborah M. Cooley Distinguished Professor of Cardiology, heard Gary Martin, MD, vice chair of Medicine, mention something that might prove useful for his current research. 
"I was speaking with a colleague about the Enterprise Data Warehouse when Dr. Knight overheard us and realized he might use it to recruit patients for his studies," said Dr. Martin, the Raymond J. Langenbach, MD, Professor of Internal Medicine. "Spontaneous conversations like that are one of the great parts about this event; bringing scientists and physicians who are often very busy into a single room."
Eric G. Neilson, MD, vice president for medical affairs and Lewis Landsberg Dean, began the annual Meeting of the Minds luncheon in 2012 as a way to thank and honor the medical school's endowed professors for their accomplishments and contributions to medical science, education and research.
Connecting Feinberg with the broader intellectual community, the luncheon also provided an opportunity to hear from a professional outside of healthcare. After welcoming those in attendance to the Chicago Cultural Center, Dr. Neilson introduced honored guest Edward Burke, Alderman of Chicago's 14th Ward.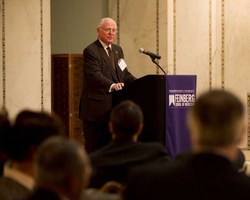 Known as the "Dean of the Chicago City Council," Burke has served as an alderman for nearly four-and-a-half decades.
"During that period of time I have had a front-row chair to the process of how this metropolis has changed," Ald. Burke said. "There is no place like Chicago … We have come a long way since the founding of the city 176 years ago."
Throughout his career, Ald. Burke has remained an avid student of Chicago's past and is co-author of three books on different aspects of the city's history. As chairman of the Committee on Finance, he is responsible for all legislative matters pertaining to the city's finances, including municipal bonds, taxes and revenue matters. Ald. Burke also serves as a member of the Chicago Plan Commission.
During his talk, Ald. Burke commemorated the 111 endowed professors at Northwestern University Feinberg School of Medicine, ending with a reflection on how they may play a role in the city's future.
Since arriving at Feinberg in September 2011, Dr. Neilson has overseen the addition of 16 named professorships. Created in perpetuity, endowed professorships represent the highest accolade a university can bestow upon its faculty.