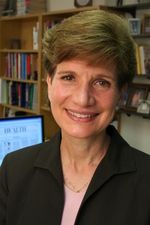 As scientists learn more about the role of diet in causing and preventing diseases, nutrition education has become increasingly important in medical education at Northwestern University Feinberg School of Medicine.
"We are an evidence-based education program here," said Linda Van Horn, PhD, RD, associate dean for Faculty Development and professor in Preventive Medicine. "We teach what has been documented in medical literature, and over the last 10-15 years there have been many studies that report that diet is a major contributor to health and to the prevention and treatment of disease. That rise in importance is reflected in the curriculum at the medical school."
Nutrition has played an important role in the Department of Preventive Medicine. Its founder and former chair, Jeremiah Stamler, MD, an expert in cardiovascular epidemiology, recognized early on the importance of diet in the development of cardiovascular disease. During his tenure, Dr. Stamler documented the important role diet played in the development of risk factors associated with heart disease, such as hypertension, high blood pressure, cholesterol and obesity.
During Dr. Stamler's chairmanship at the medical school, he started the Master of Public Health program and added nutrition electives to the curriculum. Those electives were a success, with more than 100 students attending.
In 1998, the department received the Nutrition Academic Award, a five year grant from the National Heart, Lung, and Blood Institute to help support the development and integration of nutrition within the medical school curriculum. Feinberg was one of 21 schools to receive the grant. With the funding support, Van Horn and Robert Kushner, MD, professor in Medicine-Endocrinology, were able to incorporate a theme of prevention and nutrition in the medical school curriculum.
With the addition of the Area of Scholarly Concentration, a four-year research project that's part of the new curriculum, medical students have the option of conducting research around nutrition and its effects on disease. Through participation in these projects, students learn how to access and analyze nutritional data and how to build nutrition into their future practices.
This fall, a group of interested medical students started a new student organization called NU-trition. The club has as its goal student enrichment and further exploration of the role of nutrition in medicine. Van Horn is their advisor.
"I am delighted that medical students find the topic of nutrition interesting. It reinforces our long-range hypothesis that if future physicians ascribe a sense of importance to diet and nutrition, then maybe we have the opportunity to see change," said Van Horn.