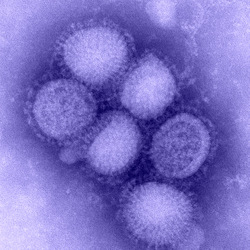 As the world prepares for what may be the next pandemic strain of influenza virus – the H7N9 bird flu – Michael Ison, MD, associate professor in Medicine-Infectious Diseases and Surgery-Organ Transplantation, is helping develop the nation's future plan of defense. 
"The flu fights every effort we make, mutating to survive in the face of our efforts to keep people alive," he said. "We currently have some good ways to treat it, but like all infectious diseases, influenza will morph to become resistant to our current therapies." 
Dr. Ison is co-chair of the antiviral section of a forthcoming revision to the Infectious Disease Society of America's (IDSA) treatment guidelines for influenza. 
"Antivirals are the cornerstone of treatment," said Dr. Ison, a member of Northwestern's Comprehensive Transplant Center. "We don't know when the virus might develop resistance to Tamiflu and Relenza, but we do know that we don't currently have any other approved treatment regimens." 
Created in the months before the 2009 "swine flu" pandemic, the IDSA guidelines are an evidence-based set of recommendations, assembled with contributions from many sources, including the Centers for Disease Control and Prevention and the American Academy of Pediatrics. 
"Because of the pandemic, there was a new and significant body of knowledge that was recognized as vital to our future plans," Dr. Ison said. "In this edition, we've gone so far as to prepare specific guidance for any future pandemic outbreak, and we're working to address a host of considerations that we didn't tackle back then." 
Dr. Ison is also working to create new medicinal options. He was lead investigator of the phase II and one of two lead investigators of the phase III studies of Peramivir, a drug currently being evaluated by the Food and Drug Administration (FDA) for approval.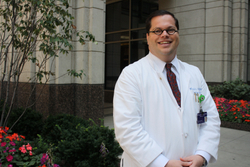 Peramivir was used prior to FDA approval in 2009 as part of the nation's Emergency Use Authorization plan because it can be delivered to individuals too sick to ingest oral or inhaled medication. As potentially the first FDA-approved intravenous treatment option to fight influenza, the drug could play a large role in future flu outbreaks. 
Dr. Ison recently published a study in Antiviral Therapy that demonstrated daily use of Peramivir was associated with clinical improvement during the pandemic. Over the past year, he and colleagues at the University of Toronto completed a first-of-its-kind study that looked at patients who developed influenza that became severe enough to require hospitalization. Those findings are pending publication and will provide insight into the clinical and virologic course of influenza in patients with severe infections. 
The IDSA guideline groups are currently reviewing literature, before recommendations are made and eventually approved sometime after the start of 2015. The new plans will rely on scientific investigation and expert opinion where data is limited. Vaccination remains the best method for preventing the flu. 
"As we learn more about how the virus works and how it causes disease in humans, there may be ways that we can modulate the course of illness in individual patients. Our efforts may eventually rely on more than just antiviral drugs," Dr. Ison said. "As a physician-scientist, our overall goal remains to minimize the impact of the flu by keeping people alive and allowing them to do what they want to be doing, rather than being ill."