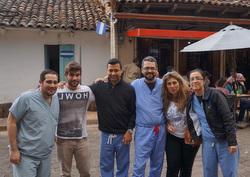 Evangelia Razis, MD'87, PhD, will never forget the chemotherapy patients she visited in Sri Lanka. Razis has worked in many countries to raise awareness on breast and cervical cancer, yet it was her experience on this small island nation that stands out because "patients had to get chemotherapy while sitting on the floor. There were no beds or even mattresses, and some had IVs hanging from the window. The patients who were presented had very advanced, neglected disease."
"Oncology can be quite disheartening," she continued. "You feel like you try a lot but get only modest results. Meanwhile, an awareness effort can have a huge impact in some areas where cancer prevention and treatment is a huge unmet need."
A daughter of an oncologist, Razis found the specialty to be familiar and diverse with potential for great human interactions and the option for private practice, hospital rounds and research. 
"Medicine is exciting and it's a great profession," Razis said. "It's defining in that being a physician usually affects all aspects of your personality and life. It is an immense responsibility to be a doctor, so people should do it only if they are passionate about it. I still manage to get excited and have fun with the practice of medicine every day."
Razis, a native of Greece, chose the Honors Program in Medical Education at Northwestern (HPME), a combined undergraduate and medical school program, because she knew she wanted to be a physician when she applied for college. In the first two years of her undergraduate education, Razis chose electives in areas of interest such as mathematical philosophy, literature, foreign languages, art and film. Some of her favorite classes in medical school were anatomy and neuroanatomy, and she has fond memories of rotating in internal medicine in her third and fourth years.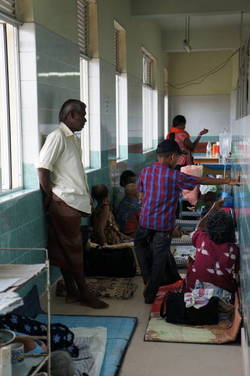 "My experience at Northwestern was very important. I learned how to think and approach problems in a systematic way," she said. "I also learned to seek a deeper understanding of scientific questions. I wish I could have been a student forever, for the sake of learning and expanding one's intellect."
After graduation, Razis completed a three-year internal medicine residency at Beth Israel Medical Center in New York City, followed by a two-year oncology fellowship and one-year bone marrow transplantation fellowship, both at New York Medical College/Westchester County Medical Center. She worked as an instructor of medicine at New York Medical College for a few months before returning to Greece in 1993 to work as an attending physician at Hygeia Hospital in Athens.
She completed a PhD in medicine in July 1998 at the University of Crete. Recently, she set up the first group oncology practice in the country, based on the U.S. model. In Greece, oncologists in private practice typically send patients to a hospital for chemotherapy. Razis broke away from this model and provides options for therapies based in the office.
"I want to see the practice flourish in research participation and manage to get QOPI certification, which is a U.S. quality certification. This is a great challenge in my country," she said.
In addition to her private practice, she participates in a number of medical associations and cooperative groups focusing on clinical and translational research. Through these groups she has published more than 60 papers and presented many abstracts and posters in international meetings.
"I do research because oncology is still an evolving field and in the era of molecular biology and genomics, translational research is extremely exciting," she said. "Research also helps overcome the somewhat depressing side of oncology practice. A lot of patients relapse and eventually succumb to their disease. Research not only makes us feel that the odds can and may be improved, but also frequently makes new drugs available to our patients."
With all of her work and travels, Razis said she would not be able to do this without her family.
"My family is important in keeping a balance in my life," she said. "I would say that medicine and particularly oncology cannot be practiced without balance, without a personal life, because one has to be able to distance oneself to regain perspective."