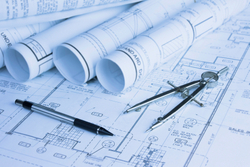 The Chicago architectural firm of Perkins+Will has been selected to design a new Biomedical Research Building for the Feinberg School of Medicine on Northwestern University's Chicago campus, Northwestern officials announced today. 
The new Biomedical Research Building will be located immediately east of the Lurie Medical Research Center on the site of the former Prentice Women's Hospital.  Northwestern plans to construct approximately 600,000 square feet of research space starting in 2015 with eventual buildout of approximately 1.2 million square feet. 
The Perkins+Will design features a curved glass exterior, with flexible floor plans for laboratories and a sunny "winter garden" area that will bring natural light into the building. 
"Northwestern University and Perkins+Will have created a building with a unique shape that has a poetry of design and will result in a work of beauty for the University and the community," said Gordon Segal, who chairs the educational properties committee of Northwestern's Board of Trustees. 
The building will be adjacent to and connected on a floor-by-floor basis with the Robert H. Lurie Medical Research Center. 
"The generator from day one was the lab plan for the building. It wasn't creating a sculpture and fitting in the plan. It's all about the research and the labs and that's the generator of the idea," said Ralph Johnson, design director of Perkins+Will. "When you do that, the shape of the building starts to happen." 
The new Biomedical Research Building will anchor the University's research facilities and be the hub of a world-class research and development enterprise that attracts innovation and entrepreneurship. Construction of the new state-of-the-art center will create thousands of jobs, help find tomorrow's cures and generate approximately $3.9 billion in economic activity in Chicago in the coming decade. 
"Perkins+Will has designed a building that will be both very functional and will also have great internal spaces that will encourage collaboration among our researchers. It will support our research mission and will help us attract the best faculty in the country," said Eric Neilson, MD, Northwestern's vice president for medical affairs and the Lewis Landsberg Dean of Feinberg.