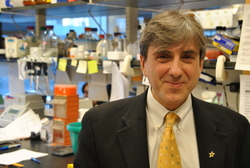 Northwestern Medicine® scientists are offering new insight into cytokines, cancer fighting proteins within the blood.
Essential for their role in cell signaling, how interferons (IFNs), a specific type of cytokine, come to fight cancer has remained a mystery. To begin to solve this puzzle, investigators are looking into the molecular pathways that may be mediating their effects.
"What we found is that IFNs, critical for cancer surveillance, use the Mnk kinase pathway to initiate these disease-inhibiting effects," said Leonidas Platanias, MD, PhD, Jesse, Sara, Andrew, Abigail, Benjamin and Elizabeth Lurie Professor of Oncology. "To our surprise, it is the same pathway used by oncogenes and growth factors, which promote myeloproliferative neoplasms (MPNs), a group of diseases related to leukemia in which the body makes too many blood cells."
The discovery was published in The Journal of Biological Chemistry.
"In parallel work, we published a paper in Blood where we targeted the same Mnk pathway with a compound and showed an ability to block the growth of primitive disease cells in acute myeloid leukemia while also enhancing the effects of chemotherapy," said Platanias, deputy director of the Robert H. Lurie Comprehensive Cancer Center of Northwestern University.
Those findings provide hope that a combination of Mnk inhibitors and chemotherapy may lead to the elimination of leukemia-initiating stem cells, a necessary step in effectively curing the disease.
Throughout his career, Platanias has uncovered several pathways critical for the biological effects of IFNs.
Earlier this fall, he received the Seymour and Vivian Milstein Award for Excellence in Interferon and Cytokine Research at an international meeting in San Francisco. The Milstein Award represents the pinnacle of scientific achievement in the field.
"There are some remarkable scientists who have received this award in the past," said Platanias, professor of Medicine-Hematology/Oncology. "To be considered among them is a great honor."
Platanias will continue his analysis of interferon signaling in an attempt to identify other "downstream" factors of the Mnk pathway that may potentially be altered to produce anti-cancer responses to MPN.
"We are taking a very basic-science approach toward what we hope will be unique and effective translational therapies," he said. "We are trying to bridge our research with translational medicine to produce scientific discoveries that will make a difference."
The work was supported by National Institutes of Health grants CA155566, CA77816 and CA161796.