A group of preeminent scholars joined University leaders, distinguished guests and current faculty to honor Laszlo Lorand, PhD, professor emeritus in Cell and Molecular Biology, at a scientific symposium held Friday, Nov. 22.
"I am so pleased to be able to take this opportunity to look back on a number of landmark achievements our group has made," said Lorand, who has been at Northwestern University since 1955. "I was happy to have played such a significant role in establishing the biochemical sciences in Evanston."
Having joined Northwestern University Feinberg School of Medicine in 1993 after nearly four decades with the Department of Chemistry and what is now the Department of Molecular Biosciences, Lorand helped eliminate the distance between each campus through biomedical collaboration. He also helped recruit some of Northwestern's most influential leaders.
"I came to Northwestern for a postdoctoral position and found an unexpected and remarkable group of researchers who had a creativity, an enthusiasm for science," said Daniel Linzer, University provost. "I've stayed here 29 years because the reality lived up to the vision set forth by Dr. Lorand and his colleagues."
Touching on subjects that ranged from molecular cardiology to pathology, biochemistry and the intricacies of blood coagulation, each of nine presenters offered the audience an in-depth look at their research.
"We're really pleased that so many people could share in the excitement of decades of work that have transformed a very interesting part of biology," said Eric G. Neilson, MD, vice president for medical affairs and Lewis Landsberg Dean. "This group of esteemed scientists not only presented their work, but also honored Dr. Lorand for his invaluable contributions in the process."
Lorand, who obtained an absolutorium in medicine from the University of Budapest and a PhD in Biomolecular Structure from Leeds University, taught Physiology and Pharmacology at Wayne State University School of Medicine prior to joining Northwestern. He was instrumental in securing National Institutes of Health (NIH) support for an extension to the Tech building on the Evanston Campus, was the first director of an NIH-funded Biochemistry Training Program and became a founding member of the new Department of Biochemistry, Cell and Molecular Biology. In 1993, he transferred to the medical school as a research professor of Cell and Molecular Biology and became a distinguished investigator of the Feinberg Cardiovascular Research Institute.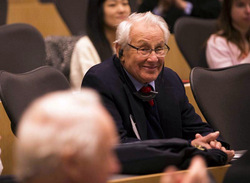 Lorand is an elected Member of the National Academy of Sciences, a fellow of the American Academy of Arts and Sciences and a foreign member of the Hungarian Academy of Sciences. He has received numerous awards and honorary degrees throughout his career and is the author of more than 200 scientific publications. His research in the area of thrombosis, protein associations and calcium ions is considered to have had a major impact in the field of blood coagulation. For his part as a teacher and mentor, Lorand is recalled by many for having played a vital role in their own careers.
"A couple of years ago, I started working on TG2, a major focus of Dr. Lorand's work, and a colleague suggested that I go and talk to him," said Joan Cook-Mills, PhD, associate professor in Medicine-Allergy-Immunology, who attended the symposium. "He's so supportive of people, so excited about what he's doing. He gave me some great advice and as a result, this year I received an NIH grant to study TG2."
The last presenter of the day was Nobel Prize-winning chemist Avram Hershko, MD, PhD, distinguished professor of the Rappaport Faculty of Medicine at the Technion Israel Institute of Technology. He was followed by another of Lorand's recruits, Robert Goldman, PhD, chair of Cell and Molecular Biology, who offered closing remarks.
"It is a great pleasure to be able to thank Laszlo for his years of service," Goldman said, offering him a gift on behalf of the medical school. "He has made so many outstanding contributions to science that individuals came from as far away as Australia to take part today, a testament to his impact both in the lab and outside it."