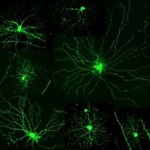 Northwestern University scientists have discovered the significance of timing when it comes to the brain's ability to merge independent visual cues.
Binocular matching only occurs during a critical period of development shortly after birth. Without proper visual experiences during this time, the brain would continue to receive different inputs from each eye without unifying them into a single image.
Scientists found that when the critical period occurs too early in life due to a genetic defect, neurons responsible for the second stage of processing visual information, known as complex cells, are not yet mature enough to complete the process.
"These experiments demonstrated that proper timing of the critical period is essential for establishing normal binocularity," said co-principal investigator Xiaorong Liu, PhD, assistant professor in ophthalmology. "We also learned that the negative consequences of the genetic defect can be overcome with an enriched living environment during postnatal development."
Liu's lab restored binocular development in mouse models by increasing visual stimulation, access to physical activity, and social interaction.
When the animals were exposed to stimuli-heavy living conditions, a change in gene expression caused the rapid maturation of complex cells. The effect offset the early critical period and resulted in normalized binocular matching.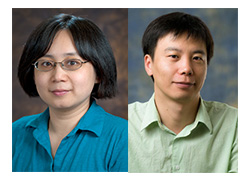 "This was a perfect collaboration because both of our labs study neurological development, in particular, how neurons and their underlying circuits are shaped by experience," said co-principal investigator Jianhua "JC" Cang, PhD, associate professor of neurobiology in the Weinberg College of Arts and Sciences. "We know that the timing of the critical period is controlled by both genetic and environmental factors, however, the significance of such timing regulation was unclear until now."
These findings were published with an accompanying video abstract in the journal Neuron.
The labs will next look at the manner in which the enriched environment effected gene expression and restored visual development.
The work was supported by the National Eye Institute, Sloan Research Fellowship, and the Klingenstein Fellowship Award in Neurosciences.