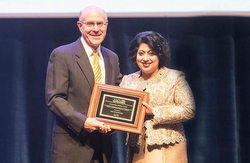 Paul Greenberger, MD, professor of medicine-allergy-immunology, recently received global recognition for his contributions to the field.
Honored with an Outstanding Clinician Award during this year's World Allergy and Asthma Congress held by the World Allergy Organization (WAO) in Milan, Italy, Greenberger's research interests include allergic bronchopulmonary aspergillosis – a condition related to a fungus, which can cause repeated pneumonias and can damage the lungs – severe asthma, and anaphylaxis. The award recognizes the impact Greenberger has made throughout his 36 years on the Northwestern University Feinberg School of Medicine faculty.
"It means a great deal to be recognized by the WAO, a federation of more than 70 professional societies with the expressed goal of improving care for patients with allergies and asthma worldwide," Greenberger said. "This is a distinct honor, and to be recognized by other national leaders in the field of allergy-immunology means a great deal."
In his time at Feinberg, Greenberger has trained more than 120 allergy-immunology fellows, many of whom have become leaders in the field, more than 650 residents, and nearly 200 fourth-year medical students. He is credited with advancing the field scientifically and improving patient care in multiple facets.
A prolific scientist, Greenberger has published more than 270 articles and 104 reviews and book chapters. He is the WAO vice-chair of the communications council and previously served as president of the American Academy of Allergy, Asthma and Immunology.
His lab is currently investigating the neurotransmitter "substance P" as a novel approach to allergen immunotherapy for people with hay fever. The work is funded in part by the Bryan and Christina Cressey Foundation.
"Dr. Greenberger has been a leader in allergy at Feinberg, throughout the country, and around the world for many decades," said Robert Schleimer, PhD, chief of medicine-allergy-immunology. "We are very lucky to have Paul here, as he enriches our academic environment in so many ways. This award is a tangible acknowledgement of his great achievements."