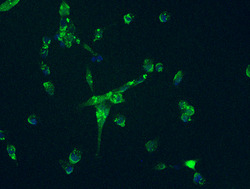 Sixth-year MD/PhD student Laura Moore has learned that even the tiniest diamonds can hold immense value.
First author of a Journal of Dental Research article, Moore helped uncover a way to use nanodiamonds – particles 20,000 times smaller than a strand of hair – to improve bone growth and combat osteonecrosis, a potentially debilitating disease in which bones break down due to reduced blood flow. When osteonecrosis affects the jaw, it can prevent people from eating and speaking; when it occurs near joints, it can restrict or preclude movement.
The group of scientists from Northwestern University, UCLA, and the NanoCarbon Research Institute in Japan used nanodiamonds to promote durability in dental implants.
Growth factors, such as bone morphogenetic proteins (BMPs), have seen increasing use in oral surgeries in order to promote bone formation. However, the only FDA-approved method for delivering BMPs requires surgical implantation of bulky sponges that have been soaked in the protein.
"Here, we demonstrated that nanodiamonds are capable of serving as non-invasive vehicles for effective delivery of two growth factors: BMP-2 and basic fibroblast growth factor," said Moore, who is enrolled in the Medical Scientist Training Program. "While the delivery of BMP-2 alone has been shown to improve bone production, the addition of other proteins has been shown to augment the process."
Moore conducted the experiments highlighted in the publication. She sees their impact as twofold.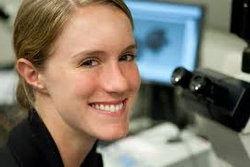 "First, the studies demonstrate the ability to simultaneously deliver varying doses of these two proteins using one nano-vehicle," she said. "Secondly, BMP-2 has to have a drug delivery vehicle because otherwise it simply diffuses away from wherever you inject it. By delivering the proteins on nanodiamonds we are able to limit diffusions and deliver the proteins slowly over time."
The idea is that these growth factor-loaded nanodiamonds could be administered as an injection or oral rinse, which would be much easier, less painful, and less expensive than the current sponge implantation surgery.
Moore previously published research on the use of nanodiamonds to enhance the treatment of cancer.
Because one of the more devastating side effects of doxorubicin chemotherapy can be osteonecrosis of the jaw, Moore saw using nanodiamonds to treat the disease as a logical transition.
"I think the next step is to test the efficacy of the delivery in more complex systems," she said. "We've shown that this works well in cultured cells, but now we need to see if it works to promote bone regeneration in animal models."
The study was supported by the National Cancer Institute, the National Science Foundation, the Wallace H. Coulter Foundation, the V Foundation for Cancer Research, the Society for Laboratory Automation and Screening, Beckman Coulter, and the European Commission.