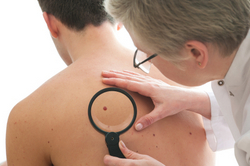 Knowing which melanomas are likely to be cured with surgery and which are likely to spread is the basis for a new clinical test recently validated by Pedram Gerami, MD, associate professor in dermatology and pediatrics-dermatology.
"The significance of this study is that we can provide patients and their healthcare providers greater accuracy than before in predicting how melanomas, the most dangerous form of skin cancer, will react," said Gerami, director of melanoma research at the Northwestern Skin Cancer Institute and a member of the Robert H. Lurie Comprehensive Cancer Center of Northwestern University. "These findings give us one additional way to characterize melanomas, classify them, and allow us to fine tune treatment plans for individual needs."
Gerami's data, disseminated at the Summer Academy Meeting of the American Academy of Dermatology, confirmed previous studies that showed a specific genetic test was a strong predictor of which Stage I or II non-metastatic skin cancers will likely recur.
"The test will help save some patients with low-grade melanomas part of the undue burden of certain treatments used in aggressive melanomas and likewise make sure patients who do have aggressive disease get the treatment they need," Gerami said.
Gerami's lab uses molecular techniques to improve diagnosis and prognosis in melanomas. He recently published a protocol for determining whether a tumor is melanoma or not when standard microscopy – a common way to diagnose the disease – fails to do so. The lab is currently evaluating an adhesive skin tape to non-invasively evaluate genetic material from moles.
The validation data confirm previous studies showing that the gene expression profile test is a strong independent predictor for classifying which Stage I or II non-metastatic cutaneous melanoma patients will likely recur. The results were presented by Pedram Gerami, M.D., Associate Professor of Dermatology, Director of Melanoma Research at the Northwestern Skin Cancer Institute, Northwestern University.
The multi-institutional validation study included archived tumors at Northwestern from nearly 240 Stage I and II melanoma patients. It was funded by Castle Biosciences Inc.