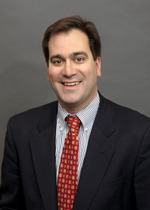 Northwestern University nanoscientist Chad A. Mirkin, PhD, has been named a 2013 Thomson Reuters Citation Laureate in the annual pre-Nobel Prize "Thomson Reuters Predicts Nobel Laureates" study.
Having accurately forecast 27 Nobel Prize winners since its inception in 2002, the study mines scientific research citations to identify the most influential scientists in the fields of chemistry, physics, medicine, and economics.
Mirkin, a world-renowned leader in nanotechnology research and its application, is being recognized for his contributions to DNA nanotechnology.
One significant example of his work is the invention of spherical nucleic acids (SNAs), new globular forms of DNA and RNA often surrounding a nanoparticle core. These structures have enabled major advances in chemistry, materials science, biology, and medicine, and they form the basis for more than 700 products commercialized by licensees of the technology. Mirkin has created the fundamental design rules for using such structures as artificial atoms and DNA as bonds to program the formation of new forms of matter comprised of nanoparticles.
Mirkin is a professor of medicine at Northwestern University Feinberg School of Medicine and the George B. Rathmann Professor of Chemistry in the Weinberg College of Arts and Sciences, as well as a professor of chemical and biological engineering, biomedical engineering, and materials science and engineering. He is director of Northwestern's International Institute for Nanotechnology.
This year's complete list of Nobel predictions includes 28 scientists representing 22 distinct academic and research organizations, and six different countries. Based on a thorough review of citations to each person's research, Thomson Reuters names these high-impact scientists as Thomson Reuters Citation Laureates and predicts they will be Nobel Prize winners, either this year or in the future.