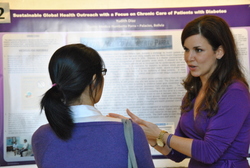 Arriving at a medical clinic in a small Bolivian town more than 4,000 miles from campus, it didn't take long for second-year student Yudith Diaz to realize the need was greater than she anticipated. 
"It was not going to be enough to merely speak to patients about diet, or provide them with printed information," said Diaz, whose project centered on the chronic care of diabetes. "Not only did I counsel patients, but I taught a daylong workshop for local health promoters. These are the individuals who live in nearby towns that can offer support while doing things like checking blood pressure." 
Diaz, who worked with patients from neighboring communities at the Centro Medico Humberto Parra clinic, presented her research alongside other members of the Classes of 2014 and 2016 during Northwestern University Feinberg School of Medicine's annual Global Health Day, held this year on September 13. 
The day kicked off with the University's first One Book One Northwestern (OBON) event of the year and featured a panel discussion on pediatric malnutrition, nutrition policy, food security, and clinical medicine in Kenya, the setting for the literary selection. 
"The Last Hunger Season provides a critical perspective on how the tenuous food cycle for small farmers in western Kenya affects every aspect of their lives, not the least of which is their physical and mental health," said panelist Jennifer Lynn Nicholas, MD, assistant professor in radiology. "The solutions proposed to optimize the farmers' crop yields are seemingly simple, but incredibly powerful. Ideally, students of global health who read the book will be inspired to generate equally creative solutions for optimizing healthcare in resource-limited settings both internationally and locally."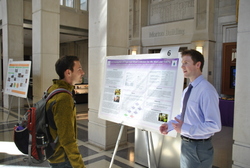 From Africa to Asia
Other 2013 global health experiences brought students to Tanzania, Nigeria, Uganda, Israel, India, Ecuador, Mexico, and China.
"When you have an experience like this, it teaches you, more than anything, to be flexible," Diaz said. "As healthcare providers in the United States, we have the luxury that when we step into a healthcare setting, we can stay within our assigned role and the patient will have their needs met. In developing countries, if you are not willing to be flexible, if you are not willing to talk about something you weren't prepared for, your patient may never get that information."
Nearly half of all students at the medical school engage in a global health experience with an affiliated university, health clinic, or international nongovernmental organization at some point during their education. 
"The motivation for Global Health Day in part comes from the unprecedented interconnectedness of our time, which is rapidly transforming our institutions and communities as well as our healthcare systems," said Robert Murphy, MD, director of the Center for Global Health. "Previous beliefs and ideas about international health and global disease burdens are changing and the field of global health is growing." 
This year's award for best global health presentation was given to second-year medical student Claudia Leung for her project, "HIV Care as a Model for Integrated Non-Communicable Disease Management in Dar es Salaam, Tanzania." Honorable mention was given to second-year students Brian Poole and Tyler Maiers for their work, "An Investigation of Fingerstick Blood Collection for HIV Viral Load Testing."