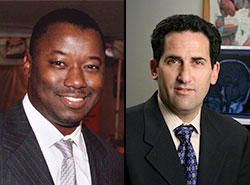 In recognition of its commitment to care and cutting-edge research, Mayor Rahm Emanuel has proclaimed October 4 as Northwestern Brain Tumor Institute (NBTI) Day in Chicago. 
"Millions of people and families representing all ethnic backgrounds and income levels are affected by brain and spinal tumors and (these) tumors can occur at any age and at different sites in the brain," Emanuel said. "The Northwestern Brain Tumor Institute maintains a manifest mission based in finding cures for brain and spinal tumors while training neuro-oncology researchers and clinicians to meet the highest of standards." 
The proclamation coincides with the fifth anniversary of the Minds Matter Benefit, the NBTI's biggest annual fundraiser. Local ABC7 sports anchor Rafer Weigel, who lost his father, Tim, to brain cancer in 2001, will be the night's special guest. 
"Each year, Minds Matter is a wonderful celebration and shows support for our past, present, and future patients and their families, as well as our dedicated team of scientists, physicians, surgeons, researchers, nurses, and social workers," said Jeffrey Raizer, MD, co-director of NBTI, professor of neurology and medicine-hematology/oncology. 
The NBTI is a nationally recognized leader in the fight against brain and spinal cord tumors, and includes experts from the Robert H. Lurie Comprehensive Cancer Center of Northwestern University, Northwestern University Feinberg School of Medicine, Northwestern Medical Faculty Foundation, and Northwestern Memorial Hospital. As the highest ranked neurology program in Illinois, the NBTI serves and treats approximately 7,000 brain and spinal cord tumor patients each year. 
Research at NBTI encompasses both clinical studies and basic science approaches focused on the mechanisms that allow brain tumors to grow and proliferate, creating vaccines to eliminate brain cancer, utilizing nanotechnology as a vehicle for novel drug delivery to the brain, creating mathematical models for enhanced imaging of brain tumors and better understanding of their behavior and response to therapies, and brain mapping strategies to optimize the safety of surgery. Investigations to better define the molecular signature of brain tumors will allow tailored treatments and more reliable prediction of response to existing therapies. 
"NBTI is unique in its complement of high-caliber physicians, scientists, and support staff that share a commitment toward the eradication of brain cancer and optimization of the quality of life of all patients and families allowing us to participate in their care," said James Chandler, MD, co-director of NBTI, and professor of neurological surgery and otolaryngology-head and neck surgery. "The Minds Matter Benefit provides an opportunity for the community, patients, and physicians to come together to raise public awareness and generate support to sustain existing NBTI infrastructure and expand our cutting edge basic and translational scientific research and novel clinical care."
For more information on the Minds Matter Benefit, visit the NBTI website.