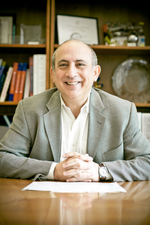 A study published in Cancer Cell has revealed protein EZH2 to be a powerful regulatory molecule and key driver of B-cell lymphoma, a type of cancer in white blood cells. 
The project, a multi-center collaboration that grew out of the lab of Jonathan Licht, MD, chief of hematology/oncology, suggests that combining an inhibitor of EZH2 with other anti-tumor agents may offer a much-improved treatment option for up to 70 percent of adult lymphoma cases. 
"Our findings also demonstrated that EZH2 is required for normal B-cell lymphocytes (white blood cells), and if deleted, the lymphocytes cease to develop at a certain stage," said Licht, Johanna Dobe Professor of Hematology/Oncology. 
B-cells produce antibodies within the body that fight invading microbes. B-cell lymphomas occur most frequently in older adults and in individuals with compromised immune systems.  
"Our group was able to map what the mutated EZH2 does to a cell and correlate those findings in animal models with the human data of our collaborators in order to identify the whole program of gene expression that is being shut down," said Licht, associate director for clinical sciences research at the Robert H. Lurie Comprehensive Cancer Center of Northwestern University. 
In a normal state, EZH2 works by allowing cells to divide without stopping, leading to better antibodies. In healthy individuals, the EZH2 promotion of growth is temporary and B cells eventually reach a state of maturation and rest. When the protein is mutated, the B cells become locked in a continuous state of development and the result is lymphoma. 
"It's important to note that my long-time colleague Ari Melnick, MD, director of the Raymond and Beverly Sackler Center for Biomedical and Physical Sciences at Weill Cornell Medical College, and his lab illustrated how EZH2 inhibitors may be used for a broader range of lymphoma cases, specifically those that are derived from the so called germinal center, the central part of a lymph node where antibody producing cells grow rapidly," Licht said. "As a direct result of these experiments, we at Northwestern along with our colleagues at Weill-Cornell are planning clinical trials of the approach." 
The research collaboration was supported by the Burroughs Wellcome Foundation and Chemotherapy Foundation, a collaborative trans-network grant from the National Cancer Institute Physical Sciences in Oncology Center program, a  Leukemia and Lymphoma Society Specialized Center of Research Excellence, and the T&C Schwartz Family Foundation.