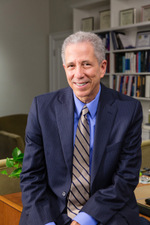 Robert J. Alpern, MD, dean of Yale University School of Medicine, Ensign Professor of Medicine, and professor of internal medicine, will speak at Northwestern University Feinberg School of Medicine's 155th commencement on Thursday, May 22, 2014. 
With interests in research, clinical practice, and teaching, Alpern's career is filled with numerous leadership roles, editorial positions, and educational honors. In 2000, he was elected president of the American Society of Nephrology. He has also been elected to the American Society of Clinical Investigation, the Association of American Physicians, and the Institute of Medicine, and has served on the advisory council of the National Institute of Diabetes and Digestive and Kidney Diseases. 
"I am delighted to introduce Dr. Alpern as our next commencement speaker," said Eric G. Neilson, MD, vice president for medical affairs and Lewis Landsberg dean. "Hearing from a nationally prominent academician who currently leads one of our nation's great medical schools will be an inspiring opportunity for the Class of 2014." 
Alpern's research career has focused on the regulation of kidney transport proteins and his early investigations helped define the mechanisms by which the kidney transports acid. Alpern was dean, professor of medicine, and chair of molecular nephrology at the University of Texas Southwestern Medical Center prior to his arrival at Yale in 2004.
Alpern attended undergraduate school at Northwestern University, where he majored in chemistry. He received his MD from the University of Chicago Pritzker School of Medicine and finished his residency training in internal medicine at Columbia Presbyterian Hospital in New York. He then completed a postdoctoral fellowship in nephrology at the Cardiovascular Research Institute at the University of California, San Francisco. In 1982, Alpern joined the faculty at UCSF before being recruited by UT-Southwestern in 1987.