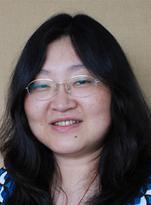 A novel study of American newborns and toddlers is furthering the link between vitamin D and the development of food sensitization.
Xin "Lucy" Liu, MD, PhD, assistant professor in pediatrics and preventive medicine, is building upon her work, published in Allergy, which showed vitamin D deficiency at birth may increase the risk of food sensitization among individuals with defined genetic susceptibility. 
"While our first paper looked at the effects of low vitamin D levels at birth on the risk of food sensitization, our recent research takes a longitudinal view of vitamin D levels at birth and in early childhood, the most critical windows for immune system development," said Liu, a member of the Mary Ann & J. Milburn Smith Child Health Research Program at the Ann & Robert H. Lurie Children's Hospital of Chicago Research Center. 
Looking at children at birth and in early childhood, Liu noticed that a baby born with low vitamin D who maintains a below-normal level early in life has a higher risk of developing food sensitization. For those babies who have a vitamin D deficiency at birth but have normal levels later on, there is a decreased risk or no risk at all. The work has been electronically published ahead of print in Pediatric Research.
"If our findings can be replicated by an independent study, we can recommend to parents and to pregnant women that not only is it important to take vitamin D while pregnant, but to continue to make sure that children early in life are receiving enough of it through fortified formula, foods, or supplements. 
"This means that children born with low levels of vitamin D can make up for that fact," Liu said. "While low levels are undesirable from many viewpoints, particularly bone health and autoimmune disease, with regard to food sensitization, it is a risk factor that can be corrected."
Early food sensitization is a strong risk factor for food allergy, which is a complex trait affecting approximately five to eight percent of children and three to four percent of adults. Insufficient vitamin D has been widely studied in the field of allergic diseases. However, the role of vitamin D deficiency at birth and persistent low vitamin D status from birth to early childhood in the development of food sensitization have not been studied as much, particularly in regards to genetic factors. Liu's work could ultimately lead to better risk assessment and potential interventions for food sensitization and subsequent food allergy in early childhood.
"We are working to identify the genetic, epigenetic, and environmental factors that lead to the development of food sensitization and subsequently food allergy. We want to examine how these factors jointly influence an individual's disease risk," Liu said. "Increasing knowledge about the complex interplay of these factors will transform our understanding of the causes of food allergy.  This will enhance our ability to identify individuals at high risk, and ultimately design targeted, cost-effective strategies for the prevention of food allergy."