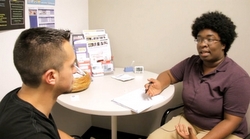 The nation's first clinical psychology internship track focused on lesbian, gay, bisexual, and transgender (LGBT) health will launch this fall at Northwestern.
"Through this historic collaboration between multiple departments at the University and the Center on Halsted [a local nonprofit dedicated to the LGBT community]we will be training future leaders in health research, education, and clinical care," said Brian Mustanski, PhD, associate professor of medical social sciences and director of the IMPACT LGBT Health and Development Program. "The LGBT community experiences numerous health inequities and there are too few psychologists with the educational background to help address these needs."
Participants will train in the fields of health, research, education, and services, with the end goal of providing LGBT-identifying individuals with culturally competent and evidenced-based mental healthcare.
"The scope of this new program reaches beyond Chicago, significantly impacting the future of mental healthcare for lesbian, gay, bisexual, transgender, and queer people and the clinical psychologists who serve this population across the country," said Center on Halsted CEO Modesto Tico Valle. "Our center is leading the way in securing a healthy future for LGBTQ individuals as we help prepare the next generation of mental health professionals to provide the most appropriate levels of care."
A track within the psychiatry and behavioral sciences internship and postdoctoral fellowship program, interns will participate in rotations that include training in mental healthcare for LGBT clients, working with gay and bisexual men living with HIV/AIDS in an infectious disease clinic, caring for low-income individuals with serious mental illness, and contributing to LGBT public health research and services.
"A large majority of our interns go on to positions as faculty members at academic medical centers, and so for more than four decades we have balanced advanced clinical training with skills in clinical research," said Mark Reinecke, PhD, professor in psychiatry and behavioral sciences and head of the internship program. "This is an exceptional new opportunity as interns will get the benefit of working with some of the leading LGBT scholars and top clinicians in the country."
Studies have shown that as a group, LGBT adults experience more mood and anxiety disorders, depression, suicidal thoughts and attempts, and substance use as compared with heterosexual adults. Driving these disparities is the fact that LGBT people are more frequently the targets of stigma, discrimination, and violence because of their sexual- and gender-minority status, which leads to long-lasting effects on both the individual and the LGBT community.
"Health professionals with greater exposure to this patient population and formal education in LGBT psychology are more likely to take the time to learn a patient's sexual orientation and to provide competent care," said Mustanski. "Unfortunately, available evidence suggests that too few professional psychologists receive formal training in this area. Our goal is to train clinical psychologists who are prepared for careers as clinicians and clinical researchers who are competent to address the health inequities and disproportionalities in the LGBT population."
Those interested in the 2013-14 internship cycle to begin in September may apply here. Applications received by July 17 will receive stronger consideration.
Sponsored jointly by the Departments of Psychiatry and Behavioral Sciences, Medical Social Sciences, the Division of Infectious Diseases, and the Center on Halsted, the internship program is funded by a grant from the U.S. Health Resources and Services Administration and will support three interns each year.