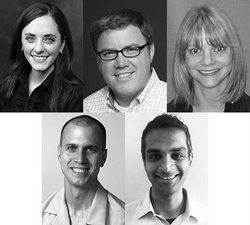 Tracing the form of a sonata, R. Kannan Mutharasan, MD'03, instructor in medicine-cardiology, developed a new, active learning structure for medical lectures.
The "sonata lecture" begins with an exposition of themes and topics, next the material is explored and developed, and finally the lesson ends with information reinforced and summarized.
Mutharasan will work on this project as part of the 2013-14 Searle Fellows Program, a year-long development program for early career faculty that pairs them with a senior faculty mentor. Participants complete a project where they identify a teaching or learning challenge that they have observed, provide a critical solution to the challenge, and implement the solution either during the program or in the next academic year.
"I'm excited to be part of the Searle Fellows program because I love teaching, and the program gives me the chance to put this keen interest on a more formal footing," Mutharasan said. "I love the challenge of taking a complex, interconnected field like cardiovascular medicine and breaking it down. What should we talk about first? Which features should we emphasize? It's as challenging and rewarding as anything I do."
Mutharasan joins four other faculty members accepted into the program:
The medical school fellows will join 13 faculty members from across a range of disciplines and schools at Northwestern University. Since the Searle Center for Advanced Learning and Teaching began the program in 1999, more than 50 Feinberg faculty members have completed the program and 40 senior medical school faculty members have served as mentors. Out of Northwestern's schools, Feinberg has the largest total number of faculty to have received a fellowship.
Faculty members are invited to apply by the University Provost. Since 2009, FAME, led by Jon Lomasney, MD, associate professor in pathology and molecular pharmacology and biological chemistry, has helped review applications from Feinberg faculty.
"Fellows demonstrate accomplishment and commitment in teaching and show promise to take on leadership roles in education," said Lomasney. "The program is an opportunity for our junior faculty to learn about modern learning and teaching and to do an inquiry-based project that is related to a course that they are developing or teaching in."
Throughout the year, faculty members participate in a series of events, including development workshops, retreats, consultations, peer and expert observations, and student focus groups. At the end of the program, the faculty members present their teaching and learning projects to senior administrators and colleagues.
"I'm looking forward to engaging with the Searle Center and networking with other Northwestern faculty members to develop a better way to teach and measure learning as an important element of our curriculum," said Brinkmann, who will be studying ways to implement simulation into the curriculum for the master's degree program in orthotics and prosthetics.
"I think mixing with the broader faculty of the University has a lot of benefit," Lomasney said. "You learn from people who do different things. Even though this group of faculty might seem at first diverse, they actually have a lot in common. They share with each other new ideas and best practices. I think that is part of the strength of this program."