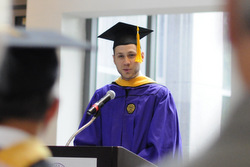 "We know that between 50-100,000 people die each year as a result of medical error," stated Paul Jansson, a second-year medical student. "Are these bad people doing bad things? No, they are not. These are good people put into a system that is designed to produce poor results, and as a result, bad things happen."
The first Northwestern University Feinberg School of Medicine medical student to complete the Master of Science in Healthcare Quality and Patient Safety program, Jansson was selected by his classmates to speak to friends, family, and faculty during the Center for Education in the Health Sciences 2013 Convocation on June 29.
Jansson was one of six graduates to receive the Master of Science in Healthcare Quality and Patient Safety (HQPS) degree. Eight Master of Science in Health Services and Outcomes Research (HSOR) students were also recognized.
Jane L. Holl, MD, MPH, director of the Center for Healthcare Studies and the Center for Education in Health Sciences, welcomed students, faculty, and guests to the ceremony before introducing John X. Thomas, Jr., PhD, senior associate dean for medical education.
"You are ambassadors of the principles you have trained in," Thomas said. "I encourage you to seek leadership in whatever level in the organizations you are involved with to be able to make a difference."
On behalf of the Dean's Administration, he congratulated students and wished them success as they continue on with their careers.
Then Holl gave remarks on behalf of the faculty in the Center for Healthcare Studies.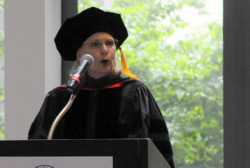 "I am really impressed by your passion, your clear thinking, and, most of all, your desire to do the right thing," she said.
She shared her hope for the future of "a safe, high-quality, and equitable healthcare system. So go forth and be in charge."
Donna M. Woods, EdM, PhD, research associate professor in the Center for Healthcare Studies, introduced keynote speaker David A. Ansell, MD, MPH, senior vice-president for clinical affairs and chief medical officer at Rush University Medical Center in Chicago.
Ansell gave a speech recalling his career as a doctor and physician leader in Chicago for the past 35 years and described it as "a course in quality and safety of its own." He told the story of a miscommunication between an intern and nurse which led to the death of a patient and the culture of blame which followed. Through these stories he inspired students "to raise your hand and speak up when you see something wrong."
"As you graduate today, you are joining a small but growing army of national experts on patient safety and quality. Know that steps will need to be taken to achieve a higher quality of healthcare in our institutions," said Ansell, also the Michael E. Kelly, MD, Presidential Professor and associate dean for clinical affairs. "Please join me because we need more voices like yours with expertise and a passion for improvement."
He asked students to raise their right hand and join him in stating an oath.
"I promise to speak up on behalf of our patients and their safety when I have concerns," Ansell said.
Elected by his classmates, Paul Jansson then spoke on behalf of the HQPS program.
"By now, it's become clear to me that we cannot rely on vigilance, on exhortations to 'pay attention,' or rely on punishing people that make mistakes as a solution to the problems of the health care system," he said. "We must change the situation, we must change the system, we must make it so that the right thing to do is the easiest thing to do. We need to see every mistake as an opportunity to fix the system so the next person will not make the same mistake, too."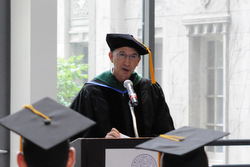 Following Jansson, Woods and Stephen D. Persell, MD, MPH, assistant professor in medicine-general internal medicine and geriatrics and the Center for Healthcare Studies, awarded the HQPS degrees. This two-year master's degree educates clinicians and other healthcare professionals to become effective healthcare quality and patient safety thinkers, practitioners, and researchers.
Student speaker Andrew J. Gawron, MD'07, PhD, shared his quest to answer a question that was posed to him, "what is the point of this degree?" and his journey as a student in the HSOR program.
"As we continue to move forward, there will be challenging times because some of the research we do directly challenges existing dogma, clinical practice, and how medical dollars are spent reimbursing care," he said. "The research we do questions very much the choices that are put in our arms … and that's why we need this degree."
After, Holl awarded the HSOR degrees. This program offers opportunities for interdisciplinary and applied training of individuals to gain skills and expertise in health services and outcomes research.
Woods concluded the program with a farewell, "We look to you, each of you, to bring forward the change in design, culture, and practice needed to establish the foundational systems on which to build high-quality, safe, effective, equitable, patient-centered care. We look to you as leaders to inspire and construct the transformational change needed to deliver on the promise of healthcare."