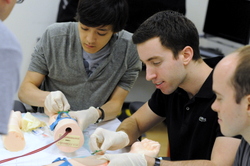 Third-year medical student Derek Tam concentrated on inserting an IV into a simulated arm during a training session as part of the week-long Introduction to Clinical Clerkships (ICC).
"Learning how to treat patients, that's what we came to medical school for," he said. "I'm really looking forward to beginning my third year and clinical rotations, and excited to help the residents and nurses."
During this session, held in the Simulation Technology and Immersive Learning center, Tam and his peers learned not only how to place IVs and draw blood, but also how to use and interpret monitors, provide oxygen to patients, and intubate them.
Administrators organized ICC to facilitate the transition of medical students from the second to the third year of medical school, when they move from classroom to hands-on learning. The goal is to provide students with basic skills and information before clinical rotations begin.
Before the students start working in a hospital or clinic, they learn about infection control and prevention, risk management, and how to use electronic records and find patient information. In addition to developing some of the hands-on skills they need to care for sick patients, they also were instructed on how to prepare for the clinical work environment, wellness and sleep, and patient safety.
"Everyone is nervous, but excited," said Mark Labelle, a third-year student. "We are excited to put to practice what we've been taught, and nervous about the unknown. There is so much to learn to be able to care for a patient, and realizing the amount we still need to know is humbling."