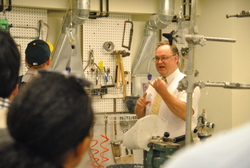 The medical school's newest master's degree program began on Monday, June 10, without a single student on campus. 
Using a blended learning format, which combines online with onsite training, students in the two year Master in Prosthetics-Orthotics (MPO) program will complete their first two quarters (six months) from home before arriving on campus for one year of hands-on clinical education. The seventh and final quarter of the program is also off-site, and offers students the opportunity to focus on an area of special interest while honing their clinical skills prior to residency. 
Housed within physical medicine and rehabilitation, the 21-month postgraduate degree is seen as a "natural evolution" and successor to Northwestern University Prosthetics-Orthotics Center's (NUPOC) post-graduate certificate programs in prosthetics and orthotics. 
"The field has matured to the point where higher education is a recognized value and is needed to provide the proper breadth of education," said Steven Gard, PhD, executive director of NUPOC and associate professor in physical medicine and rehabilitation. "With this program, we will establish a more informed clinician, a prosthetist/orthotist who can better communicate with healthcare professionals as a well-respected member of the healthcare team." 
The incoming class met their instructors and classmates as part of a two-and-a-half day, in-person orientation last week. The inaugural 48-student MPO cohort then took to the Internet on Monday, June 10, to begin viewing lectures and completing coursework both independently and in online groups. 
"What I like about this program is that Northwestern University and NUPOC have outstanding reputations. I expect the master's program to build on NUPOC's excellence in P&O education," said incoming student Kyle Swensen, the 2013 RERC Scholar and a graduate of Brigham Young University in Utah. "I talked to a number of practitioners who received certificates from NUPOC and they spoke highly of the program and opportunities that Chicago provides." 
The Curriculum
After demonstrating proficiency in fundamental concepts during the initial online portion of the master's program, the 28 men and 20 women will take part in hands-on, supervised clinical education on campus. It is here that MPO students apply their knowledge and develop skills in assessment, design, fitting, and evaluation of prostheses and orthoses.  
Because students don't need to live in Chicago during the first six months, John Michael, MEd, CPO/L, FAAOP, FISPO, director of NUPOC, expects to see future cohorts at least as geographically represented as the Class of 2015, which enrolled students from 25 states. 
"Our last few certificate classes included students from coast-to-coast, if not across the globe, and their geographic diversity was matched by their educational backgrounds," Michael said. "It's obvious that undergraduate degrees in the sciences are great, but it might surprise you to know that even a background in English produces an individual with very important clinical skills. There are a lot of different beginnings that lead to being a very good clinician." 
­Founded in 1958, NUPOC is one of the largest and oldest accredited prosthetic and orthotic practitioner education programs in the West. Three years ago, Feinberg's prosthetics-orthotics research laboratories and educational programs merged and moved into a custom-designed, award-winning space. 
The MPO program, launched after more than five years and thousands of hours of work, is highly competitive, with two in three students being turned away. NUPOC will use a rolling admissions process for future classes, meaning applicants will be considered until all seats are filled with qualified applicants. 
For more information on the program, please visit the MPO website.