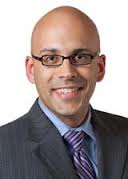 Karl Bilimoria, MD, MS'08, GME'10, assistant professor in surgical oncology and medical social sciences, has been named a 2013 Young Investigator by the National Comprehensive Cancer Network® (NCNN). 
Bilimoria will use the grant – $150,000 over two years – to work on research regarding the quality of care delivered to melanoma and breast cancer patients. 
"In particular, the project will look at ways to help hospitals improve how they determine whether the cancer has spread to the lymph nodes," said Bilimoria, a member of the Robert H. Lurie Comprehensive Cancer Center of Northwestern University. "We will also be trying to define which patients would benefit most from having their lymph nodes checked for the spread of the cancer." 
The NCCN, an alliance of 23 of the world's leading cancer centers, is dedicated to improving the quality and effectiveness of care provided to patients with cancer. Bilimoria joins individuals from Duke, Johns Hopkins, and the University of California at San Francisco as this year's honorees. 
"These awards assist in and encourage the development of the next generation of cancer researchers," said Patricia J. Goldsmith, executive vice president and chief operating officer at the NCCN. "In turn, with their success, the awardees support the NCCN mission to advance the quality, effectiveness, and efficiency of care for people with cancer." 
Since coming to Feinberg, Bilimoria's research has focused on quality improvement (QI) strategies and policy evaluations related to quality initiatives. His group's QI research works toward developing better ways to provide hospitals with comparative data to spur internal improvement efforts. They also work to examine how to provide patients with better comparative data through public reporting, which can assist them in selecting the best hospital for their surgical care. 
"Receiving this award is a tremendous honor and I expect the results of our studies to have a real and immediate impact on the care of melanoma and breast cancer patients," he said. "This is a crucial area of research because the determination of whether the cancer has spread to the lymph nodes is one of the most important factors with respect to prognosis, treatment planning, and enrollment in clinical trials."