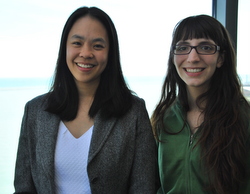 Women with a history of gestational diabetes (GDM) are finding one of their principal motivations for improved health – their newborn – to also be their biggest barrier. 
The results of a new collaborative study involving members of the Departments of Medicine and Obstetrics and Gynecology, used semi-structured interviews with black, white, and Hispanic women to investigate what factors are persuading or deterring lifestyle changes in postpartum women with prior GDM. 
"We know from studies like the Diabetes Prevention Program that women with gestational diabetes can reduce their risk for developing diabetes through diet, exercise, and weight loss," said principal investigator Joyce Tang, MD, assistant professor in medicine-general internal medicine and geriatrics. "What has been missing from the literature is how we can effectively engage these women in making lifestyle changes after delivery." 
Gestational diabetes develops during pregnancy in women who have never had diabetes but who exhibit high blood sugar levels. The diagnosis doesn't mean a mother will have diabetes after birth, but these women do face an increased risk of developing the disease later in life. 
Interviewing subjects alongside Tang, Javiera Pumarino, research assistant in the Center for Healthcare Studies, said the results show that although these mothers had a desire to stay healthy, they often delay adoption of healthy behaviors to deal with more immediate issues like childcare or sleep deprivation. 
"They know they are at risk and have a good idea of what they should be doing, but on top of the normal barriers any person might face, they also have a newborn," she said. "We know that they are not prioritizing themselves, though they know they should." 
Although blacks and Hispanics face an increased risk of developing type 2 diabetes, the study found that barriers in dealing with the aftermath of GDM existed across racial groups. 
"What is needed is a paradigm shift in how we approach lifestyle interventions," Tang said. "Instead of concentrating on the individual, we need to think about how a woman might make changes within the context of her family. This might include suggesting exercises that women can do with their infants or incorporating healthy, child-friendly recipes. Just as importantly, we need to be thinking about how to help women feel OK with asking for help so that they can prioritize their own health."
Presented during Research Day 2013, Pumarino was recognized for her poster with the Public Health and Social Sciences Award from the Women Faculty Organization. She also presented her work during Women's Health Week. 
Extended Research
A larger project has also grown out of the original study examining the motivators and barriers in diabetes prevention. That project focuses on the perceptions women with a history of GDM have about the disease. 
The scientists found that risk for type 2 diabetes was frequently underestimated, with just 12 percent of respondents reporting they felt their risk to be high. And although virtually all of the women had follow-up with a healthcare provider after delivery, just under half did not complete guideline-recommended testing to identify those at the highest risk of progression to diabetes in the near term.
"This research really underscores the need for a systems-based intervention to improve postpartum care coordination for these women," Tang said. "This could be achieved through a coordinated hand-off from obstetric- to primary-care physicians to improve continuity of care with a focus on diabetes prevention."
The problem now is that "women often don't see their OB/GYN again after their postpartum visit until their next pregnancy. The women who see a primary care doctor in the interim may not disclose their history of gestational diabetes, meaning we are missing an opportunity for focusing on diabetes prevention," Tang said. 
She recently presented early results from the project at the annual Society for Internal General Medicine meeting held in Denver. 
The research is funded by the Center for Equality in Clinical Preventive Services.