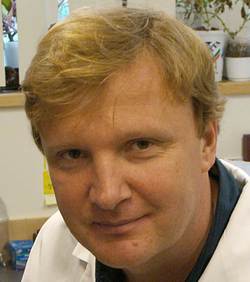 Dimitri Krainc, MD, PhD, a distinguished investigator of international stature whose research has had a transformative impact in the area of neurodegenerative diseases, will join Northwestern University Feinberg School of Medicine on July 1 as Aaron Montgomery Ward Professor and chair of the Ken and Ruth Davee Department of Neurology. He will also direct a new center for rare diseases which will have university-wide participation.
"Dr. Krainc will play an integral role in advancing the academic and research missions of Northwestern Medicine®," said Eric G. Neilson, MD, vice president for medical affairs and Lewis Landsberg Dean. "A highly respected scientist, his research has helped uncover the molecular underpinnings of neurodegenerative disease, and provided a foundation for innovative therapeutic development.  I also want to thank John Csernansky, MD, and his search committee, for all their hard work to identify such exceptional new leadership."   
A native of Slovenia and a graduate of Zagreb Medical School, Krainc spent the past 21 years at Harvard Medical School where he completed his research training followed by a neurology residency and fellowship in movement disorders at Massachusetts General Hospital and Brigham and Women's Hospital. He then served on the neurology faculty at Massachusetts General and Harvard.
"I am extremely honored to lead one of the nation's premier departments of neurology and I very much look forward to working with my new colleagues," Krainc said. "This position also carries great responsibility to seek new treatments for many neurological disorders that remain incurable, and to prepare our medical students and residents for the future of neurology and neuroscience."  
The overarching goal of Krainc's research is to define key molecular pathways in the causes of neurodegeneration in order to develop therapies for Huntington's, Parkinson's, and related diseases. He has published numerous peer-reviewed articles and reviews in the most prestigious scientific journals.
Throughout his career, Krainc has served with distinction on various local, national, and international committees and boards, including the Neurological Sciences and Disorders Committee at the National Institutes of Health and the Society for Neuroscience. He is an elected member of the American Neurological Association and American Academy of Neurology, and has served on several editorial boards, including The Journal of Neuroscience. 
Krainc was recently named a 2013 Massachusetts General Hospital Research Scholar, a program that provides five years of unrestricted funding to give innovative investigators the flexibility to pursue projects that may lead in unexpected directions.
Maintaining an active global profile as a visiting lecturer in several countries abroad, Krainc has also preserved his passion for teaching and has helped organize and participated in numerous training programs. 
"Dr. Krainc has continually been recognized for fostering a culture of innovation and collaboration," said Csernansky, chair of psychiatry and behavioral sciences. "His commitment to knowledge and ability to bring together diverse groups of investigators will greatly enrich an area of translational neuroscience that is of intense interest to clinical and basic scientists alike at Northwestern."