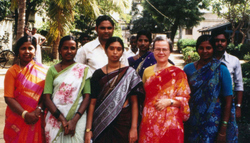 Graduating from the University of Washington in Seattle with a bachelor's degree in chemistry, Marian Boehr, MD'51, told her father that she wanted to go to medical school.
"My father was upset," Boehr said. "He told me, 'Medicine is no profession for a woman. Whatever gave you that crazy idea?'" At the time, fewer than 5.5 percent of medical school graduates were women, according to the American Medical Association.
After explaining to her dad, a general practitioner himself, that she felt it was her life's mission to become a surgeon, he agreed to help. Boehr applied to his alma mater, Northwestern University Feinberg School of Medicine, and was accepted. Having graduated high school and undergrad early, Boehr was 19 when she boarded a train from her home in Portland, Oregon, and headed to Chicago to begin her medical career.
Life at Northwestern
At Northwestern, Boehr was one of four women in a class of 150.
"Being one of only a few women did not really intimidate me," she said. "I really didn't think much about it. I was used to being the only woman in groups of male advanced chemistry students in university. I was only determined to get good medical training so I could make a positive difference in the lives of the people I would help."
She fondly recalls volunteering at Ann and Robert H. Lurie Children's Hospital of Chicago, then the Children's Hospital of Chicago, and her gross anatomy class. One of her most memorable moments comes courtesy of Mother Nature.
One day while commuting home by train, Boehr carried some human bones in a big paper sack planning to study them later.
"It started raining and the sack got wet and gave way – right in the middle of Michigan Avenue," she said.
While she received some odd looks, she was determined to get her cargo home.
"I held up traffic gathering up the bones, and used my skirt to carry them in," she said.
After graduation, Boehr spent two years in residency at Cook County Hospital. While there, she said she received invaluable training in all aspects of medicine and surgery.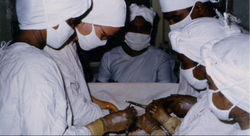 Serving in India
As a devout Baptist, Boehr felt compelled to become a missionary doctor once she finished her training. The American Baptist Foreign Mission Society appointed her to a post in India. She spent a year at the Kennedy School of Missions in Hartford, Connecticut, in preparation for the trip. At the time, the only information she knew about the country came from National Geographic magazines or by talking to other missionaries who had been there. Boehr set sail for India in 1953. The trip took a month.
"The day I sailed on a huge liner from New York City, I was scared," she recalled. "And on that long, long trip I got homesick. The train ride across India took two days and a night. I tried to learn as much as I could by watching people and the landscape going by, but I was alone and didn't understand the languages spoken."
Happy when she arrived at her final destination, she then spent a year of intensive language study. Boehr studied Telugu, which allowed her to speak with patients and staff, preach in churches, counsel patients, and teach without the need of an interpreter.
Her main responsibilities took place at the Nellore Mission Hospital, where she served as a surgeon, administrator, teacher in the nursing school, and medical superintendent. The hospital served women and children only. Because of their culture, Muslim and some high-caste Hindu women could not see a male doctor.
"I was so grateful to be a female doctor," she said. "Thousands of those dear women are alive because I was there to give them medical help."
A few years after her arrival, Boehr pushed for the hospital to become a general hospital so she could also treat men. One day one of her patients came in with their husband, who had severe abdominal pain. He had been to a doctor in the city who had removed his appendix, but he still suffered pain. An x-ray showed a huge bladder stone. Boehr operated on him and removed it, giving him the stone to take home.
"Talk about advertising, he showed the stone to everyone," she said. "Within a month I had 43 male surgical patients, and they never stopped coming. I was known from then on as a male surgical specialist."
During her career, some of the most common surgeries Boehr performed included hysterectomies for fibroids and cancer, ruptured tubal pregnancies, caesarean sections, gastric resections, and bowel resections. She repaired cleft lip and palate and did skin grafting of severe burns.
She also treated accidents that ranged from goring by water buffalo to fractures, and saw patients with tuberculosis – the number one cause of death in the country – cholera, typhoid fever, small pox, and polio.
In her time off, she took postgraduate courses in surgery, spoke in churches and conventions, and visited family. When she retired in 1992, she had completed 34,000 surgical operations over the course of 38 years.
"I have been blessed far beyond any of my wildest dreams," she said. "I heard and answered my mission call, and I have been able to treat and comfort thousands of sick and suffering in India."
After retirement, Boehr returned to the United States and settled back in Portland. She wrote the book Medicine and Miracles Amid the Multitudes about her life abroad. She was named a "Person of the Century" by a leading Indian newspaper in 2000. She now acts as a missionary and inspirational speaker at conferences, churches, schools, and retreats across the United States.
"As I look back on my life and career choices, I know that I made the right ones," she said. "I would never have changed jobs with anyone in the world."