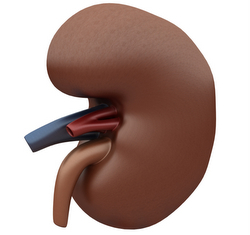 Within the next few decades, getting a new kidney could be as simple as having a doctor order an engineered organ that will be developed in the laboratory with a patient's own cells. Delivery could take a few months and, theoretically, a patient might not need immunosuppressant drugs because his body would recognize the kidney as his own. 
On Monday, April 22, international experts gathered at Northwestern University Feinberg School of Medicine for a brainstorming session on kidney regeneration. The conference, "Building a Kidney: From Stem Cells to Organ," was sponsored by Northwestern University, the Simpson-Querrey Center for Regenerative Nanomedicine at IBNAM; and Cellular Dynamics International. 
 "The development of kidneys on demand is in the future," said Jason Wertheim, MD, PhD, a Northwestern Medicine® scientist and a member of the Northwestern Comprehensive Transplant Center, who is conducting tissue engineering research along with other Northwestern investigators. 
In addition to Wertheim, the Northwestern scientists who organized the workshop include Susan Quaggin, MD, director of the Feinberg Cardiovascular Research Institute and chief of nephrology at Feinberg and Northwestern Memorial Hospital; and Samuel Stupp, PhD, Board of Trustees Professor of Materials Science and Engineering, Chemistry and Medicine, and director of the Institute for BioNanotechnology in Medicine. 
"To regenerate the kidney," Stupp said, "we will have to go beyond stem cell biology and create strategies that integrate the use of highly bioactive synthetic scaffolds designed at the nanoscale to signal cells and guide formation of this complex organ." 
About 96,000 patients in the U.S. are waiting for a kidney transplant; 4,400 are in Illinois. There aren't enough to go around. In the U.S., doctors perform about 16,000 to 17,000 kidney transplants a year, in Illinois just over 1,000 kidney transplants.
"Let's say you have a patient who is in kidney failure and who will need a transplant in a few months," Wertheim said. "We could then take a sample of that person's skin or blood, turn back the clock on those cells through induced pluripotent stem cell technology and hopefully create the cells needed to grow kidney tissue."
Induced pluripotent stem cells are derived from adult cells but can develop into many different cell types in a similar manner to embryonic stem cells. 
Tissue engineering work is currently ongoing at Northwestern. In Wertheim's lab, he is using the scaffolding of a rat kidney, which has been stripped of all cells, and applying kidney progenitor stem cells to see how they develop. This process is known as differentiation. 
"What we need is to find a good human cell to make these kidneys out of," Wertheim said. "The experts in the field have brainstormed this question and others at the workshop."