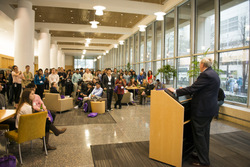 Prospective medical students had the chance to discover what makes Northwestern University Feinberg School of Medicine unique before making their final decisions about where to attend medical school during the annual Second Look event April 11-12. The Office of Admissions hosted the event.
Eric G. Neilson, MD, vice president for Medical Affairs and Lewis Landsberg Dean, welcomed prospective students accepted into the Class of 2017.
"We know we will create a great doctor," he said. "We've done it for 100 years, but the question is for us, that is a minimal expectation, what else are you going to do in your profession for human health? This is a great time in your life to think about what else is going to add value to your education and your experience as a medical student and you are at the right age to explore things. Going to medical school was one of the most fun things I ever did and I am sure you will find that as well."
Second Look guests participated in small group sessions and panel discussions outlining Feinberg's new curriculum, joint degree programs, student life, and diversity, as well as opportunities for global health and student research.
"I loved the presentations about student life," said Leslie Okorji, a graduate of the University of Texas at Dallas. "Hearing them talk made me see the day-to-day picture of what goes on in the life of a medical student at Feinberg."
Tours of the Simulation Technology and Immersive Learning center, Northwestern Memorial Hospital's Prentice Women's Hospital, the Rehabilitation Institute of Chicago, and the Ann & Robert H. Lurie Children's Hospital of Chicago, showcased the many Chicago campus offerings.
"I thought it was great to take a tour of Lurie Children's Hospital," said Syndi Cole, a graduate of Lake Forest College and a research program study coordinator in neurology at Feinberg. "Even as a staff member I don't have access to a tour of the hospital. Second Look gave me the ability to see a different side of the school."
A native of Chicago, Cole always had an interest in going to medical school and believes being a doctor is the perfect career to combine her interests in research and clinical care.
"I also enjoyed the presentation on areas of scholarly concentration and learning the timeline of the new curriculum. They shared where they are taking medical education."
The event ended with a joint degree program and student organization fair. Medical students shared with the prospective students the various groups and opportunities that are available at Feinberg.
"I like the variety of options that Northwestern and Chicago have to offer," Okorji said. "The idea of having a campus downtown in one of the biggest cities in the world is amazing."