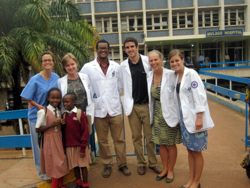 Northwestern University Feinberg School of Medicine medical students have shipped an ultra sound machine to Makerere University's Mulago Hospital in Kampala, Uganda. It is the hospital's first and only ultrasound machine. 
A gift from student organization Unite for Uganda, students raised about $5,000 over six months to pay for the shipping costs of the machine.
"Feinberg has had a formal relationship with Makerere University for several years," said Daniel Young, MPA, deputy director of the Center for Global Health. "On average we send 15 to 18 medical trainees each academic year to Uganda for clinical rotations at their teaching hospitals. Makerere is the flagship state university there and trains their very best clinicians and medical scientists, but the public teaching hospitals in Kampala are often overcrowded and poorly funded. Unite for Uganda is a wonderful effort by medical students to support in a small but meaningful way the clinics and hospitals where they train."
Unite for Uganda formed in fall 2012 as an extension of second-year medical student Sonja Skljarevski's global health project. While assigned to work in the cardiology ward of Mulago Hospital, the largest hospital in Uganda, Skljarevski formed relationships with physicians and assessed the department's needs.
"I saw how they get by with almost nothing," she said. "They make use of every possible thing and while we were there, I thought of what we could do for them. The relationship between Feinberg and Makerere has been well-established, and they have received so many of us that this was a way to give back to them for the education they have provided."
Now president of Unite for Uganda, Skljarevski and her two board members, Thomas Carberry and Chelsea Williams, plan to assess what the hospital needs and fundraise for a piece of equipment on an annual basis. Also second-year medical students, Carberry and Williams have spent time in Uganda volunteering in rural clinics.
"It's not only helping individuals there and getting them ultrasounds, but it is about getting the Feinberg community involved here," said Williams. "In the future, we would like to see it expand to other global opportunities abroad. Everyone has this emotional attachment from their global health experiences and we could bring this concept of giving back to different sites in the program."
In addition to receiving individual donations, the group organized a dodge ball tournament fundraiser this past fall. They plan for a movie night in April.
"We all did projects and mine went a lot farther than I thought it would," said Skljarevski. "The program coordinator said, 'When I started talking to you, I thought the project was just a formality, like writing it down on paper and I didn't expect much of it,' and now she can't believe that we are taking action to give them what they need. That makes us want to work that much harder to continually give back."