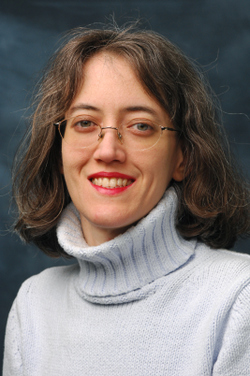 In the smallest of humans, Kathryn Farrow, MD, PhD, associate professor in pediatrics-neonatology, finds enormous motivation. 
"All it takes is for me to help that one child, get really close to that one family, and I am back in the lab with fervor," said Farrow, a physician-scientist who works in the Pediatric Cardiopulmonary Disease Laboratory and as a neonatologist at Northwestern Memorial Hospital and the Ann and Robert H. Lurie Children's Hospital of Chicago. "The translational value of my investigations drives me to think 'maybe we can save the next one, too.'" 
Building on Northwestern Medicine® research published last year in Antioxidants and Redox Signaling, Farrow studies pulmonary hypertension – abnormally high blood pressure in the arteries of the lungs – in preterm infants. 
Of the smallest babies – those weighing about two pounds or less – 40 percent will develop a chronic lung disease and approximately one in three will develop associated pulmonary hypertension. Infants who fall victim to both face a 50 percent chance of dying before the age of two. 
"When babies are born very premature, their lungs are not fully developed, and as smaller and younger babies are surviving, we are seeing a subset of those babies also develop pulmonary hypertension," Farrow said. "This is an issue that we've only recognized in the past five to 10 years and we don't know why the ones who develop it get it, and we don't know how to treat it. That's in large part because we don't know if it is like pulmonary hypertension in an older child, pulmonary hypertension in an adult, or something completely different." 
Scientific Pursuit
Recently, Farrow's lab has focused on the signaling pathway involving cyclic GMP, a critical mediator for relaxing the pulmonary arteries. If the body is unable to relax those blood vessels, as in babies with chronic lung disease, they become remodeled and the heart begins to fail over time. 
"We are looking at cells isolated from the pulmonary arteries, the vessels that get diseased, and what we were surprised to find is that with very short exposure to oxygen, the signaling pathways that are important for relaxing those vessels get completely dysregulated," Farrow said. "This has huge impact for us clinically, because babies with this lung disease often sit in oxygen-rich environments for months." 
Using neonatal mouse models, Farrow's group determined that expose to extremely high levels of oxygen for just 24 hours caused the signaling pathways to be disrupted for 13 days. Preterm babies are often exposed to moderately high oxygen levels for a month or more, and Farrow theorizes that this may exacerbate pulmonary hypertension. If correct, her work may change the way newborns get treated. 
"In this era of resource utilization, it would be good if we could either prevent these kids from getting sick, or adequately treat them once they do," she said. "If a baby leaves the neonatal intensive care unit (NICU) in good condition, they have their whole lives in front of them." 
Looking for Answers
And while her lab continues to work on discovering why preterm babies develop pulmonary hypertension, she has formed numerous collaborations with scientists looking into who gets the disease in the first place. 
One of those successful partnerships is with Karen Mestan, MD, assistant professor in pediatrics-neonatology. Mestan started the NICU cord blood study at Prentice Women's Hospital, collecting umbilical cord blood samples from all premature infants. Mestan's lab is working to develop a panel of markers to help determine which babies are going to develop the disease.