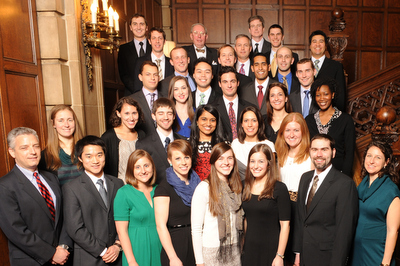 The Alpha Omega Alpha (AOA) medical honor society inducted its newest Northwestern University Feinberg School of Medicine members at a ceremony on Thursday, March 14. Inductees included medical students, residents, faculty members, and an alumnus. AOA recognizes scholarly achievement and qualities such as leadership, professionalism, and community service.
John P. Flaherty, MD, councilor of the AOA Illinois Gamma Chapter and professor in medicine-infectious disease, congratulated inductees and welcomed family and faculty members. Lewis Landsberg, MD, Irving S. Cutter Professor of Medicine, director of Northwestern Comprehensive Center on Obesity, and dean emeritus of the medical school gave the Walter G. Barr, MD, Lecture. A total of 28 medical students were welcomed into the society.
"Election into AOA is a tremendous accomplishment and membership in the society is a lifelong honor that confers recognition for a physician's dedication to the profession," Flaherty said.
"Becoming a member of AOA is an honor that feels even larger than just achievement over the past four years, it reflects a lifetime of scholarly effort and pursuit of learning," said Taylor Reif, a fourth-year medical student. "It is important to be reminded that hard work is rewarded both personally and through the health of my patients."
Fourth-year medical students Daniel Hamilton Sarezky and Margaret Dowling Sarezky, also husband and wife, were both elected to AOA.
"We entered medical school together as a couple and throughout the four years we supported each other and now it is great to be able to celebrate our accomplishment together," said Margaret Sarezky. "It came as a big surprise for us both to be inducted into the AOA, and it is an honor to be here with our classmates."
Other fourth-year medical students elected include: Isaac Josh Abecassis, Leah Helen Ansell, Brian Nicholas Arnold, Hans Chin Arora, Renee Michelle Banakis, Anthony Michael Esparaz, Kimberly Ann Everett, Candace Michelle Gragnani, Andrew Todd Harris, Michael Brett Heller, Jennifer Ann Hoffmann, Jordan Steel Kenik, David Magill, Christine Allison O'Conor, Christopher Sami Oustwani, Mariel Geneane Rosati , Adam Philip Sangeorzan, Senthil Selvaraj, Laura Ona Sestokas, Maya Srikanth, Joelle Payne Straehla, Andrew Ming-Wei Su, Michael Adam Taddonio, Ronak Ajit Vashi, and Sarah Teresa Ward.
Three residents, Rachel Blankson Issaka, MD, chief resident in internal medicine, E. Allison Lyons, MD, also chief resident in internal medicine, and Christopher T. Richards, MD, chief resident in emergency medicine, were welcomed into the society and honored for ongoing leadership in their fields and active participation in teaching and community service.
Two faculty members, Murad Alam, MD, professor in dermatology, otolaryngology, and surgery-organ transplantation, and Joseph T. Bass, MD, PhD, chief of medicine-endocrinology and Charles F. Kettering Professorship of Medicine, were also inducted, along with alumni Irwin Benuck, MD '79, PhD, GME '82, professor in pediatrics-community based primary care and Phillip E. Roemer, MD, assistant professor in general internal medicine and geriatrics.
"I have tremendous admiration for the drive towards excellence at Feinberg," said Bass. "I am mindful of the privilege that joining AOA represents. I feel especially indebted to Doug Vaughan for my nomination and to the leadership within the medical school for placing a high value on innovation and creativity in developing a dynamic medical center where clinical and basic science activities can cross-fertilize one another. I have also been lucky at each stage of my academic career to have supportive mentors and colleagues, and it is my aspiration to share in the spirit of integrity, collaboration, and scholarship that AOA represents with our students, graduate trainees, and emerging new faculty."