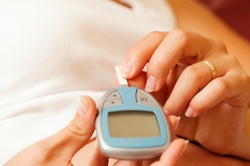 Can an overweight or obese teen's weight problems be linked to his mother's blood sugar during pregnancy?
A Northwestern Medicine® study is investigating that relationship in 7,000 mothers and 7,000 children ages 8 to 11 years old around the world. The mothers were part of an earlier study, which measured their blood sugar levels and pregnancy weight.
The study aims to identify the long-term effects of a pregnant woman's blood sugar levels on her child compared to the effects of her body weight.
"This will tell us if the blood sugar during her pregnancy is having an independent effect and how big it is," said Boyd Metzger, MD, lead investigator of the study and professor emeritus of endocrinology at Northwestern University Feinberg School of Medicine. "We'll be able to identify what is related to the pregnancy exposure and what is related to the familial or hereditary factors."
The study will help researchers understand the risks of a 200-pound, pregnant woman whose blood sugar is normal versus a 200-pound, pregnant woman who has high blood sugar.  
"If we see that a mother's high blood sugar has long-term effects on her children, that could greatly increase the benefit of diagnosing and treating gestational diabetes, because it would have short-term and lifelong benefits," Metzger said.
The project has begun enrolling the mothers and children who were part of the original Hyperglycemia and Adverse Pregnancy Outcome (HAPO) Study from 2000 to 2006. 
The study also will determine a mother's long-term risk of developing diabetes mellitus after having gestational diabetes mellitus based on new guidelines set in 2010. Those guidelines established a lower blood sugar level for diagnosing gestational diabetes.  
HAPO researchers have already found that a mother's high blood sugar during pregnancy results in overweight babies, but the long-term risk on these children is not known.  
In addition, studies have shown that a mother's excessive weight increases the likelihood that her children will be overweight, noted Metzger, also the Tom Spies Professor of Metabolism and Nutrition at Feinberg.
"It's important to know how much the presence of diabetes and obesity are contributing to more of the same in the next generation," Metzger said.
The North American study centers are in Chicago, Cleveland, Belle Flower, CA, and Toronto, with international centers in Ireland, England, Barbados, Israel, Bangkok, and Hong Kong.
The study is funded by a grant U01 DK094830 from the National Institute of Diabetes and Digestive and Kidney Diseases of the National Institutes of Health.