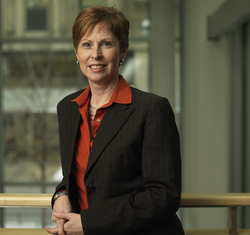 The human genome contains a wellspring of critical biological information, yet much remains to be understood – such as the effect of having certain genes, and what those genes might mean for a person and his or her future. As genetic research progresses at Northwestern University Feinberg School of Medicine and around the world, researchers, clinicians, and patients alike can struggle to manage an ever-increasing and evolving information stream.
The Electronic Medical Records and Genomics Network, or eMERGE, which launched nationally in 2007 with funding from the National Institutes of Health, is a landmark research project in the Center for Genetic Medicine (CGM).
Now in its second phase, the project tracks patient and physician actions and responses to genetic information through the electronic medical records. Genetic test results will be delivered through the electronic health record along with information that explains results and provides guidelines for clinical decision making. One of seven sites nationwide, the Northwestern team will also explore use of the electronic health record as a means to determine phenotypes for genetic research. Some of the phenotypes include type II diabetes, LDL lipids, colon polyps, and diverticulosis, among others. 
"We are developing ways to integrate genetic medicine into patient care," said Maureen Smith, MS, CGC, director of the NUgene project and assistant professor in CGM and the NUCATS Institute. "We are developing novel approaches to deliver the genetic information to physicians and work with them around this new area of medicine."
A supplemental project will look at pharmaco-genes, or genetic variations that are associated with how people respond to medication. It also aims to document and understand physician and patient concerns about genome sequencing and genetic testing information.
During phase one of eMERGE, the center published significant results, including the discovery of a protective variant in African Americans for LDL cholesterol, and confirmation of a variant found in type II diabetes in the African American population.
"I think we have a lot to learn," said Smith. "A patient comes in with a disease and we treat it, we do tests to understand it, to make sure we have the right diagnoses, and then we offer a treatment. Genetic medicine is a different way of looking at that process."
CGM at Northwestern University, founded in 2000 as a collaboration between the University, Northwestern Memorial Hospital, and the Ann & Robert H. Lurie Children's Hospital of Chicago, has a mission to facilitate the development of new genetic knowledge and its application to medicine, while improving public understanding of genetics. CGM faculty represent more than 19 departments and four schools.
The center continues to investigate questions of how to deliver genetic information so patients can understand it, and how to develop tools so clinicians may use it appropriately.
"By developing these tools we can integrate the genetic and non-genetic information to pull it together in a way that makes sense and is useful for the physician and the patient at the time they need it," Smith said.