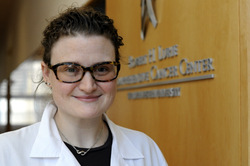 Meghan Bliss-Moreau listens to the soulful bass of Charles Mingus as she conducts an assay.
A fourth-year PhD candidate and professionally-trained jazz musician, Bliss-Moreau put aside her upright bass – for the moment – to pursue a career in translational research.
"I thought I was going to be a professional musician," she said. "While in college I learned you could do music on the side, but you couldn't do science on the side."
After graduating with a dual degree in biology and jazz performance, she spent the next four years working as a lab technician. Through this experience, Bliss-Moreau decided to pursue a doctorate degree at Northwestern University Feinberg School of Medicine.
"I realized that although I could contribute to society by being a musician, there was much more I could do by being a scientist. That is when I realized I needed to pursue a career in science, and to do that I needed a PhD," Bliss-Moreau explained.
She chose Northwestern University's Driskill Graduate Program in Life Sciences because of the ability to design a personal course of study and pursue individual research interests. Bliss-Moreau decided to join the lab of Steven Rosen, MD, director of the Robert H. Lurie Comprehensive Cancer Center of Northwestern University and professor of hematology/oncology, for the exposure to both clinical and basic science research.
"Dr. Rosen thinks on the level of a clinician and his lab manager thinks about the biology," she said. "It was an ideal situation for me because I could get aspects of how both think. While developing drug therapies in the lab, I can learn how clinical trials work and what doctors consider when choosing treatments for their patients."
In the lab, Bliss-Moreau studies a rare cancer, cutaneous t-cell lymphoma, and two compounds that when combined kill the cancer cells. She aims to understand the mechanisms and pathways of how these compounds treat the disease. Ultimately, the goal is to find better therapeutics and ways to target the cancer cells.
"Being a PhD student is a time for training and a time to learn. When I worked in the pharmaceutical industry, I learned about business. Graduate school prepares you how to think and ask questions, and teaches your hands how to answer those questions," she said.
Through her research projects, Bliss-Moreau has had the opportunity to collaborate with different scientists within the medical school's core facilities and on the main Evanston campus. Some of her collaborations have expanded beyond the University.
"The great thing about being linked to a large university is the opportunity to collaborate with people," she said. "You gain access to different resources and get fresh eyes on your projects. They may see something you didn't."
While developing and working on experiments, Bliss-Moreau attributes her flexibility and creativity to her jazz background.
"There are times you perform experiments and you get data that doesn't speak the way you want it to," she said. "The biggest challenge is to sit back and let it tell a story, and then try to work with it and figure out what is next. I do believe the elements of creativity and spontaneity from jazz have aided in how I approach challenges and problems, and how I interpret data."