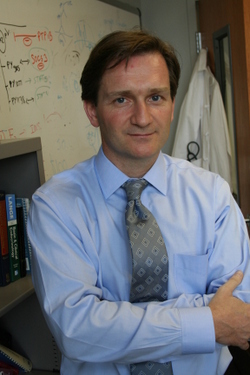 A world leader in estrogen and beta-cells, Franck Mauvais-Jarvis, MD, PhD, associate professor in medicine-endocrinology, has contributed his expertise to a project that explores the use of synthetic hormones to combat obesity and related medical conditions. 
Published in Nature Medicine, the study focused on a new treatment option that links two hormones into a single molecule. Using the combination of a hormone from the digestive system and estrogen, investigators were able to prove that the new molecule was more effective than either alone in producing weight loss and other positive benefits, while reducing adverse effects. 
"The marriage between the digestive hormone GLP-1 and estrogen shows unprecedented efficacy to enhance the benefits of GLP-1 while at the same time preventing the side effects of estrogen in male and female mice," said Mauvais-Jarvis, research director of the Northwestern Comprehensive Center on Obesity. "Although estrogens are FDA approved for postmenopausal therapy, the fear of gynecological cancers in women and prostate cancer in men has stood as a major obstacle in prescribing them for weight loss. This study discusses a way to use the hormone without the adverse effects."
Mauvais-Jarvis recently received funding from the National Institutes of Health to explore the therapeutic effect of the new molecule on the survival, revascularization, and engraftment of human islets transplanted in a model of type 1 diabetes. 
Type 1 diabetes is caused by the immune system's destruction of insulin-producing cells in the pancreas, known as beta cells. The process of transplanting human islets, tiny organs in the pancreas that contain beta cells, is the best treatment for type 1 diabetes, but the progressive degradation of transplanted islets has thus far prevented long-term success. 
The loss of beta cell function also causes those with glucose intolerance to develop full-blown type 2 diabetes, an epidemic affecting millions of Americans. 
Because current medications fail to maintain long-term beta-cell function, the discovery of novel drugs is a priority. Over the past decade, Mauvais-Jarvis has helped define the field of estrogen receptor action in pancreatic islets, insulin secretion, and the protection of beta cell function.
"This latest collaboration targeting the metabolic syndrome represents the discovery of a new class of therapeutics," Mauvais-Jarvis said. "Although our observations with the GLP-1-estrogen conjugate justify translational studies for diabetes and obesity, the multitude of other possible combinations of peptides and small molecules may offer equal promise for other diseases."