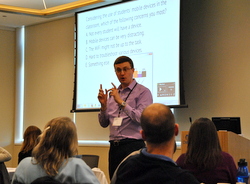 Sitting in a room with more than 125 other educators, Alice Salzman, EdD, assistant professor in physical therapy and human movement sciences, responded to a question without uttering a word. 
The act, a display of educational technology, was facilitated by a clicker – a cell-phone sized device that allows for real-time feedback from class members. In this instance, it was keynote speaker Derek Bruff, PhD, director of the Center for Teaching at Vanderbilt University, asking participants of Medical Education Day for their answers to multiple choice questions. 
"A lot of this gets back to getting students' brains engaged in class, and if technology can help with that, that's great," Bruff said. "But you have to be fairly comfortable with the technologies you are using, so that if something does go wrong you are not caught flat-footed, you can actually respond." 
The third annual Medical Education Day began with conversations over coffee, as attendees engaged researchers during a kickoff poster session. It proceeded with smaller group discussions about curriculum development, assessment, program evaluation, research and scholarship, simulation, and more.
"The day provides a forum for educators at Feinberg to come together and exchange their ideas, research interests, and faculty development needs," said Walter Eppich, MD, MEd, director of Faculty Development for the Center for Education in Medicine (CEM) and assistant professor in pediatrics-emergency medicine and medical education.
Representing hundreds of years of experience, the Feinberg educators spent Friday, February 1, inside the Ann and Robert H. Lurie Children's Hospital of Chicago learning rather than teaching. Medical Education Day is co-sponsored by three entities within the CEM: Faculty Development, the Feinberg Academy of Medical Educators (FAME), and Translational Research and Innovation in Medical Education (TRIME). 

"It's terrific to see how it has grown, with more posters and more presentations," said Salzman, who has taken part in the event each of the past three years. "It's a great chance to network and you always get an idea or two."
Challenging the educators to think creatively, Bruff elaborated on the various uses technology can play in the fight to create active learners. 
"With our students, they're making sense of things," he said. "They are learning these skills, whether they be physical skills or analytical skills, and if you are going to help them refine their skills, you need to understand what they are getting and what they are not getting."
That is where things like Twitter, Google Docs, and even blogging can come into play, Bruff said. By engaging students and allowing them to provide feedback, revisions to the teaching process can be made in real time. 
"It's always nice to have a nationally renowned expert in medical education visit us to not only give a keynote and master workshop, but also to review our activities as a center and provide feedback," said Jon Lomasney, MD, FAME director. "Dr. Bruff is an expert in active learning strategies, and this year's focus on active learning dovetailed nicely with the recent implementation of the new curriculum."
Celebrating the past year of contributions by Feinberg faculty, Medical Education Day is also meant to recognize achievement. Established to foster health professionals in their development as professors, this year FAME welcomed 12 new members: 
"I am thrilled to have been chosen for FAME as it is an amazing opportunity, especially for a junior faculty member, to collaborate with and learn from other faculty," said McBride. "Medical Education Day encapsulates the recognition, collaboration, and development of medical educators at Northwestern." 
Since its inception in the fall of 2009, FAME has provided programing for more than 550 faculty members, totaling more than 1,500 development hours. Due to FAME's exceptional growth, the center has created two additional entities, Faculty Development and TRIME, to facilitate the continued expansion of these programs.