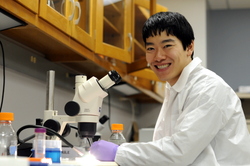 Diabetic retinopathy, or the deterioration of eyesight in people with diabetes, is the most common eye disease for diabetics and a leading cause of blindness in American adults, according to the National Eye Institute at the National Institutes of Health. Interested in this issue, medical student Jonathan Chou decided to take time off between his third and fourth years to study development of the disease.
"Diabetic retinopathy is a pretty prevalent disease – almost all diabetics get some form of it," said Chou. "My research could really make an impact and help these patients."
After starting the research project, he received a $30,000 Research to Prevent Blindness (RPB) Medical Student Eye Research Fellowship. RPB is the world's leading voluntary organization supporting eye research.
"RPB's support will provide a truly unique experience for Jonathan," said Nicholas J. Volpe, MD, chairman of ophthalmology. "I anticipate that he will have both a very productive year and at the same time solidify his own interests in ophthalmology and translational vision science."
Working in the lab of Amani Fawzi, MD, associate professor of ophthalmology, Chou will use animal models to analyze the changes in the eye that happen in diabetic retinopathy, with the goal of identifying early biomarkers of retinal dysfunction that correlate with blood flow changes. Blood flow and oxygen consumption are thought to have a correlation with this disease. 
"If we are able to measure blood flow and oxygen changes, we will be able to intervene at an earlier time and either delay or prevent the changes that occur with retinopathy," said Chou.
Chou's interest in ophthalmology started after doing a couple of rotations in the field during his third year. He reached out to Fawzi with an interest in doing basic science and retina research.
"For me, I've always seen research as part of my future," Chou said. "What I like about this project is that it gives me the opportunity to figure out how to get a study up and rolling – to solve the obstacles and logistical challenges I may face. Ultimately, it gives me a better idea of what it will be like to be a clinician-scientist in the future."