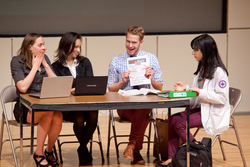 After spending years in Africa learning medicine from her parents, Cady Heron comes to Chicago to attend Northwestern University Feinberg School of Medicine. Two misfits, Janis and Damien, show her around campus and introduce her to the social hierarchy, with the "plastics" – the plastic surgery interest group – at the top.
This scene opens "Mean Docs," the theme for the medical school's 34th annual sketch comedy show In Vivo, which was held Friday and Saturday, January 18 and 19.
The show parodied the characters and plot of the film Mean Girls, a 2004 teen comedy. The audience tags along with Cady (Daisy Hassani, a second-year student) as she attempts to take down Regina George (Addie Boone, a first-year student), the president of the "plastics."
Along the way, she falls for Aaron Samuels (Patrick Sweeney, a second-year student), a fourth-year medical student heartthrob and Regina's ex-boyfriend; gets recruited to global health student interest group NUAID, which is considered "committing social suicide;" and learns about the "Feinbook," where the plastics keep track of the study habits of their peers.
The cast also featured second-year students Arvin Akhavan, Gabby Alzadeh, Pietro Bortoletto, Paul Devlin, Elena Fradkov, Varun Krishnan, Marysa Leya, Sarah Sanders, Audrey Sigmund, and Tom Wang, and first-year students Jacqueline Godbe, Patrick Hurley, and Sanjay Saraf.
In addition to the main story, In Vivo 2013 showcased student groups the Jugulars, a cappella group Docapella singing "No Air" by Jordin Sparks and Chris Brown, and the Dance Interest Group performing "Jingle Bell Rock" and "D.A.N.C.E."

This year's In Vivo also included video skits such as "Gunner Style," a parody of "Gangnam Style" by PSY, and a series of mock commercials built around Southwest Airlines' well-known "Wanna Get Away" ad campaign."
Producers of In Vivo 2013 included second-year students Frannie Rudolf, Aditya Kanesa-thasan, Danielle Chun, and Hannan Qureshi. First-year students and assistant producers included Manan Mehta, David Kaltman, Reid Johnson, and Nitin Goyal.
"There is a lot of competition and cattiness in the movie 'Mean Girls,'" said Kanesa-thasan, "We thought we could make a really good story and poke fun at all the idiosyncrasies of medical school. We have a phenomenal cast this year."
"In Vivo is something that the entire Northwestern community can take part in and enjoy," said Chun. "It is a nice break from the seriousness of medicine."
Proceeds from this year's In Vivo went to Fresh Moves Mobile Produce Market. Using a renovated Chicago Transit Authority bus, this nonprofit delivers produce to inner-city communities with little access to fresh food.
"I think many of our classmates know that food deserts are an issue and it is something a lot of our classmates are passionate about," said Chun. "How to make access to healthier options available to all people is something constantly engrained into us during our education here. So hosting this fundraiser is a way for us to make an impact and do something as medical students that we wouldn't have been able to do otherwise."