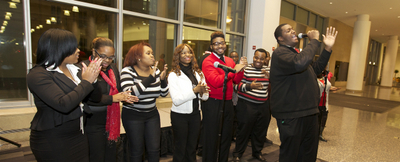 When William McNary, co-director of Citizen Action Illinois, arrived on campus, he brought with him the Words of Dr. Martin Luther King Jr. 
Removing the well-worn pocket-sized book from his carrying case, McNary quoted the civil rights leader as part of a provoking panel discussion that launched a weeklong celebration of King's impact and influence on America. 
"Too many people of goodwill have never connected bigotry with economic exploitation," McNary read. "They have deplored prejudice but tolerated or ignored economic injustice. But these two evils have a malignant kinship." 
Attended by faculty, staff, and students, "A Convenient Scapegoat – the Political Assault on Entitlement Programs," was the first of four days commemorating King on the Chicago Campus. The significance of King's presence in Memphis on April 4, 1968 – the day of his assassination – to support 1,300 striking sanitation workers, was not lost on the panel. 
"Economic rights were very central to Dr. King's vision; as much as civil rights, social rights, or political rights," McNary said. "He understood that you can't have racial justice without economic justice and you can't have a democracy without both."
 Looking at entitlement programs – which guarantee a set of rights to individuals who meet an established requirement – the panel discussed at length the way in which all Americans benefit from them. 
"What these programs do is they create opportunities to level the playing field. They give people a chance in life," said panelist John Bouman, president of the Sargent Shriver National Center on Poverty Law. "Look at Medicaid, for example. Medicaid provides health coverage to the poor… talk about a program that provides people a chance in life." 
On Tuesday, the DREAM Committee, a collaboration of Feinberg and the Law School, screened Brother Outsider: The Life of Bayard Rustin. A master strategist and tireless activist, the 2002 film tells the life story of Rustin, an American leader in social movements for civil rights, socialism, pacifism, nonviolence, and gay rights. Rustin organized the 1963 March on Washington, one of the largest nonviolent protests ever held in the United States, and is credited with molding a young Martin Luther King Jr. into an international symbol of peace and nonviolence.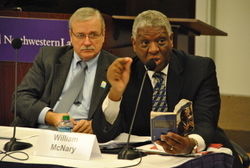 "Rather than frame the holiday as only civil rights with regard to race, we always try to talk about the past, the present, and the distance we still need to travel in the future," said Sunny Gibson, Feinberg's Office of Diversity director. "By broadening our view of justice in talking about LGBT issues, we continually honor Dr. King's legacy." 
On Wednesday evening, performances by the G3 Youth Choir and Young Chicago Authors highlighted a celebration inside the Ryan Family Atrium of the Robert H. Lurie Medical Research Center of Northwestern University. The program featured performances of original poetry and music by area students, and recognized those who submitted works to the annual MLK Art Contest. 
 "Dr Martin Luther King Jr. articulated the values and hopes that are aspirational for all Americans, and perhaps of special importance to those of us who are professionally committed to bringing justice and healing to those we serve," said Kathy Neely, MD, assistant professor of medicine and chair of the Northwestern Memorial Medical Ethics Committee. "Lifting up the values of equality and community, while honestly discussing the challenges to achieving these, is worthy of an interdisciplinary discussion." 
Thursday's noontime panel discussion moderated by Neely ended the week with an intriguing conversation about the challenges that lawyers and doctors face in working with undocumented immigrants.   
"The Affordable Care Act is changing the landscape rather dramatically; left behind, of course, are undocumented immigrants," said panelist Mark Kuczewski, PhD, director of the Neiswanger Institute for Bioethics and Health Policy at Loyola University. "We can share as a country a value that people are not supposed to die in the streets or die in their apartments … and that includes undocumented immigrants." 
This year's programming, meant to connect the legacy of King to today's social justice challenges, carried with it the theme "To What Are We Entitled? The American Dream Revisited." The events were part of broader Northwestern University celebrations reflecting on King's life. A keynote speech by actor, singer, civil rights activist, and humanitarian Harry Belafonte will conclude the Evanston Campus programming on January 28. 
Celebrated this year on January 21, Dr. Martin Luther King Jr. Day is now an official University-recognized holiday, meaning both campuses will be closed for students, staff, and faculty.