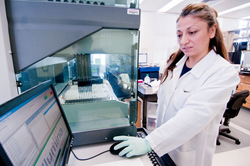 Leaders of Northwestern Medicine, comprising Northwestern University Feinberg School of Medicine, Northwestern Medical Faculty Foundation, and Northwestern Memorial HealthCare announced that they have made a transformational commitment of more than $1 billion toward creating a leading medical research enterprise on Northwestern's campus in Chicago's Streeterville neighborhood. 
As part of the plan for Northwestern Medicine, research at Northwestern University Feinberg School of Medicine will expand significantly during the next decade. Constructing additional research space and attracting top scientists to Northwestern will create more opportunities to discover breakthroughs in such areas as neuroscience, heart disease, and diabetes and cancer in children and adults, among others. Top scientists, physician-scientists, and support staff will accelerate the translation of scientific advances from basic laboratories in new and renovated research facilities to patient care. 
The new investment will help position Chicago as a global leader in medical research and innovation, helping to realize the goals for World Business Chicago and the city's economic development plans. 
"In order to build a 21st-century biomedical research facility, expand our medical school's research capacity and ultimately improve patients' lives, it is imperative that we have a thriving scientific research base," said Morton Schapiro, Northwestern University president. "We are committed to ensuring that Northwestern University and the Feinberg School continue to be leaders in biomedical research and education." 
The centerpiece of the $1 billion investment is the construction of a new state-of-the-art research building on the site of the former Prentice Women's Hospital, 320 E. Huron St. The new building will be connected to the existing Robert H. Lurie Medical Research Center on a floor-by-floor basis, enabling optimal interaction among research groups in both buildings. 
This major commitment by Northwestern Medicine is the culmination of several years of strategic planning. Construction of the new research building on the former Prentice site is dependent upon receiving the necessary approvals from the city of Chicago and resolution of a lawsuit currently pending in Cook County Circuit Court regarding the city's decision not to landmark the former Prentice building. 
Northwestern's plans call for construction of 300,000 to 500,000 square feet of research space with eventual build-out of approximately 1.2 million square feet. The University's new medical research facility will be both literally and figuratively at the center of the research and patient care facilities on Northwestern's Chicago campus. Additionally, more than 250,000 square feet of space in existing campus buildings will be converted to new laboratory space that also will house researchers and technicians. 
Support for these research initiatives over the next five to seven years by Northwestern Medicine represents a collaborative venture to meet the growing need for more medical discovery that will better serve the requirements for modern health care. 
"By expanding the scale and type of research space available on our Chicago campus, the University, the medical school, and our affiliated physicians and hospitals will be able to retain and attract world-class scientists, clinicians, and trainees for the benefit of patients everywhere," said Dean M. Harrison, president and CEO, Northwestern Memorial HealthCare. "This investment in our research mission will advance Northwestern Medicine's and Chicago's leadership in biomedical research and clinical care." 
Ann & Robert H. Lurie Children's Hospital of Chicago Research Center also plans to occupy part of the new research building. 
"We believe this new facility will create the opportunity for new collaborations for our investigators, which in turn we hope will bring novel treatments and discoveries to our young patients as quickly and safely as possible," said Patrick Magoon, president and CEO of Lurie Children's. "This effort offers great optimism for the future health of our children everywhere." 
The project is expected to generate $390 million annually in net economic impact for Chicago, and more than 2,500 construction jobs will be created for the site's full-proposed redevelopment. When complete, the new research center will add more than 2,000 professional and related jobs. Northwestern University currently attracts $300 million a year in biomedical research grants. With this new investment, the University has the opportunity to gain an additional $150 million a year in new medical research dollars. 
"Today is the golden age of biomedical research," said Eric Neilson, MD, vice president for medical affairs and Lewis Landsberg Dean at Feinberg. "The possibilities for modern genetics, biochemistry, tissue regeneration, immunology, drug discovery, and epidemiology and health care outcomes are well at hand. This new investment will give Northwestern scientists the environment they need to continue doing groundbreaking research into the causes and cures for a multitude of diseases facing our population daily — diseases that kill thousands and cost society millions of dollars."