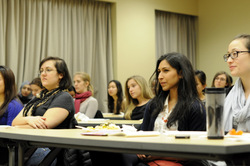 According to the American Academy of Orthopaedic Surgeons, approximately four percent of orthopaedic surgeons are women. Sara Edwards, MD, assistant professor in orthopaedic surgery, proudly stated that four of the nine orthopedic residents at Northwestern this year are female.
Edwards was one of five female physicians speaking to more than 30 students at the American Medical Women Association's (AMWA) Annual Women in Medicine Panel on Wednesday, December 5. The event focused on specialties not classically dominated by women, such as radiology, neurology, orthopaedics, and cardiology.
Other panelists included Mary McBride, MD, assistant professor in pediatrics-cardiology, Ramona Gupta, MD, assistant professor in radiology, Emily Berry, MD, assistant professor in gynecologic oncology, and Marla Mendelson, MD, associate professor in cardiology and pediatrics.
During the event, Mendelson shared that as the only female cardiology fellow in her program, she was often the one sent to see pregnant patients. She used this experience to her advantage and built a program and later a practice for heart disease and pregnancy.
"This gave me a great opportunity to do something," she said. "And I embraced it because it was a unique and fun area."
She advised students, "I think it is important to carve out a niche. Medicine is hard. You have to love coming to work every day, and for that reason, you shouldn't make a career decision based on lifestyle. Things work out."
While there are a number of women in pediatrics, McBride was one of the first female pediatric cardiologists at Ann & Robert H. Lurie Children's Hospital of Chicago.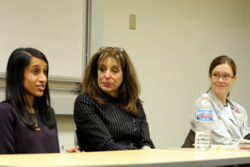 "I have four older brothers, so being around males felt normal," she said. "But now I have a female colleague and it is really special to me because it is nice to be able to talk about things that are work related and family related."
Berry encouraged students, "to pick what excites you. There are so many possibilities, including advocacy and working at the CDC. Within every specialty there is a path that fits you. Make what you choose something that you love."
Second-year medical student and co-president of Feinberg's AMWA, Riti Mahadevia asked the panel, "What should you look for in a mentor and how can we be good mentees?"
Answers ranged from finding a mentor with different interests or another specialty who could provide a broader perspective on the profession to finding a mentor who is supportive and caring. They also stressed that mentees have the responsibility to put in time and energy into the relationship. 
"It was great listening to the female physicians on the panel speak about their different paths," said Mahadevia. "I'm glad there are women that have paved the road in front of us who we can learn from and will support us as we go on our own journeys."