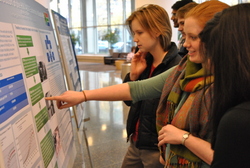 As part of daylong events in support of World AIDS Day, members of the Feinberg community gathered inside the Daniel Hale Williams Auditorium on Friday, November 30 to listen to a group with a unique perspective.
"This panel matters because it is important to hear from HIV-positive people; they are the true experts," said moderator Shannon Galvin, MD, assistant professor in medicine-infectious diseases. "They know the physical and psychosocial effects of this viral infection first hand, they have empowered themselves to undertake the available treatments, they can discuss the side effects of HIV medications, and through their experience they can best advise the scientific community on prevention. HIV is a disease with many misconceptions, and so it is vital that people hear the facts accurately from those best positioned to give advice." 
Organized by the Student Advisory Committee for Global Health, the panel discussion was a part of events that included a student-research poster session and evening coffee hour with healthcare professionals. 
"I think it's important to recognize World AIDS Day because, simply enough, it is still one of the major public health concerns worldwide," second-year medical student Phoebe Arbogast said. "Perhaps because HIV/AIDS has had so much press since the '80s, I think there may be a general sense that someone is on it, research is being done, solutions are being sought after, and the problem is being addressed. But I think it's worth reminding people that for those affected by HIV/AIDS, there is a lot yet to be done, on both the medical and the social fronts." 
Prompted by the more than 7,000 people infected with HIV every day, World AIDS Day – first observed on December 1, 1988 – is dedicated to raising awareness of the global health crisis. 
"It's important to share our research in order to have a deeper understanding of the challenges faced in developing nations, observe the role culture plays in medical decision making, and recognize the assets in specific communities," said Ijeoma Okwandu, a second-year medical student also pursuing a master's degree in public health. 
Okwandu spent four weeks this past summer in Lagos, Nigeria, performing informal qualitative interviews mostly with HIV-positive women. 
"The experience was a great opportunity to not only enhance my clinical and research skills, but also be immersed in the culture," Okwandu said. "When talking to the women in our qualitative interviews, I found the resilience they had despite their financial circumstance and HIV diagnosis inspiring." 
This was the third year that the Student Advisory Committee for Global Health sponsored Word AIDS Day events. 
"The medical community has the opportunity to chip away at the stigma of HIV from the clinical end by making testing as routine as blood testing, and by offering one to every sexually active patient regardless of risk," said Arbogast, a member of the committee. "I hope the day's events will get people in the healthcare community to think about their roles in perpetuating the stigma, as well as put a human face on the picture of HIV/AIDS."