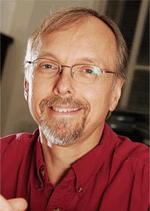 Robert Vassar, PhD, professor in cell and molecular biology, was one of four researchers to receive the Zenith Fellows Award from the Alzheimer's Association.
He will use the nearly half-million dollar prize to perform innovative research on the BACE1 enzyme, which he discovered more than a decade ago. The BACE1 enzyme is required for the production of a toxic protein called beta-amyloid that builds up in the brains of Alzheimer's patients and kills brain cells.
"BACE1 is also likely to perform beneficial functions in the brain and body, so blocking it with a drug may cause side effects," Vassar said. "In broad terms, my Zenith Award research will focus on gaining new knowledge about the normal physiological functions of BACE1 so that we can predict the potential side effects of inhibitor drugs and suggest ways to avoid them."
Extremely competitive, the Zenith Fellows Awards honor senior scientists who have made significant contributions to the field of Alzheimer's research.
"This award is only given to a handful of individuals each year, so I feel extremely honored to receive it," Vassar said. "My mother had Alzheimer's, and it's very gratifying to me that my research will perhaps help advance a treatment for this devastating disorder, and that the Alzheimer's Association has recognized my work in this way."