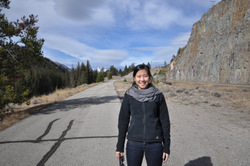 This fall Amy Chen spent four weeks in the vast landscapes and expansive horizons of Montana.
A fourth-year medical student, she worked with family medicine and pediatric physicians at Riverstone Health, a community health clinic in Billings, which has a population of approximately 100,000 people.
Chen wanted to gain exposure to rural healthcare, since she had already received training in an urban environment at Northwestern University Feinberg School of Medicine. The first student in the program, she had a flexible schedule that allowed her to tailor the experience to her interests.
"The rotation was basically a continuation of my education at Feinberg. What does it mean to be in a clinical encounter, how do you take care of patients well, and what does primary care look like?" she said. "It wasn't drastically different, but I think it rounded out a lot of the things that I had learned here in the third year. Using what I learned in clinic in Montana, I can use that to move forward in my fourth year."
Chen also got a taste for a low key atmosphere and slower pace during her excursions to Roundup, a town 60 miles northeast of Billings with a population of around 1,000 people.
She saw patients in the clinic and in a hospital setting. The clinic was tied to a six-bed hospital and four-bed emergency room. During her rotation, Chen observed that rural doctors were closer with their patients than urban ones.
"I didn't see doctors get to know their patients really well in urban environments, but it was exaggerated in the rural areas because everyone knows each other in such a tight-knit community," she said. "It's like, 'Oh, I'm seeing you in clinic and I also saw you in the grocery store and down by the rodeo.'"
The patients Chen saw where mostly ranchers, farmers, and truck drivers. While the makeup of the population was different in Montana – primarily Caucasian there, while Chicago had a larger Hispanic and African American community – the health issues she saw were similar, including diabetes, obesity, hypertension, and substance abuse.
Chen also noted how friendly and welcoming everyone was, including her homestay family, medical professionals, and the patients.
"People have been friendly and inviting to me as a medical student and outsider," she said. "They were excited to see medical students interested in taking care of their population. The community is eager to gain more health professionals."
The global health initiative (GHI) at Chicago Lake Shore Medical Associates, which supports the rural rotation program, started in 2008 to fund travel abroad opportunities for Feinberg students. In the past year, GHI decided to expand to rural America. In addition to Montana, the GHI has programs in Alaska and New Mexico, with plans to start a program in West Virginia.
"There is a great need for primary care in rural environments and we are enthusiastic to get Feinberg students out there in clinic," said Cindy Garbutt, executive director of GHI at Chicago Lake Shore Medical Associates. "We expanded the program through rural clinics in the U.S. so students could have further exposure to needs in their own country."
Garbutt reached out to Douglas Carr, MD '78, medical director of education and system initiatives at Billings Clinic, to organize and start the program in Montana. Billings Clinic is an affiliate with the hospital and clinic in Roundup. Carr connected Chen with the doctor in Roundup, where she spent the majority of her time.
"I would tell people to go on a rural rotation, and if people didn't want to go to Montana, I would say try somewhere else," Chen said. "Rural Montana is not the same as rural Tennessee or rural Alaska. I would tell them to get every opportunity they can to see something else. Feinberg has a lot of opportunities and there is a whole world out there they are not experiencing."
For residency, Chen says she would like to stay in Chicago, but rural medicine remains something she could she herself doing in the future.
"Right now I'm not really sure. It is up in the air, but every time I get into a rural environment, I like it more and more," she said.