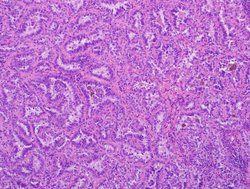 New research in the Division of Thoracic Surgery suggests that individuals who have undergone surgery for the most common type of lung cancer may improve their overall survival and reduce the risk of local recurrence by taking statins, a class of drugs used to lower cholesterol levels.
Presented at the American College of Chest Physicians (ACCP) annual meeting, the findings suggest that cancer researchers should pursue laboratory studies and potentially clinical trials to better understand how these drugs interact with lung cancers and to evaluate their use to improve outcomes following surgical resection.
"When we looked at the incidence of locally recurrent cancer after surgery as well as overall survival, we found that patients taking statins had fewer local recurrences and enjoyed longer survival," said Malcolm DeCamp, MD, principle investigator and chief of thoracic surgery. "This study is a retrospective analysis of clinical data and does not prove statins have an anti-cancer effect. However, the implications are provocative, timely, and consistent with observations published this month in the New England Journal of Medicine regarding statin use and its association with improved survival in several different cancers." 
In total, the researchers followed 803 patients (315 statin and 488 non-statin users) who underwent resection for non-small cell lung cancer between 1998 and 2010. Through their evaluation, the Northwestern University Feinberg School of Medicine group determined that statin use was, in fact, associated with significantly lower recurrence rates and significantly higher overall survival compared with non-statin users.
The brainchild of third-year medical student Satvik Ramakrishna, the investigation begins to offer some clinical correlation to in vitro research that has already linked statin use and anti-tumor benefit.
"I had some prior knowledge and experience with statin use in improving cardiac surgery outcomes and thought it would be interesting to also explore the effects of statins after lung cancer resection in light of existing in vitro studies demonstrating an anti-cancer effect," said Ramakrishna, who presented the findings at the ACCP annual meeting.
Evolving into a summer project in 2011, Ramakrishna's research proposal was recognized nationally by the American Association for Thoracic Surgery, from which he received a summer intern scholarship. After completing the data collection and conducting clinical follow-ups on every patient, analysis continued into this year.  
The presentation at the 2012 ACCP CHEST conference in Atlanta earned Ramakrishna one of two first-place Alfred Soffer Research Awards.
"Statins continue to be one of the most widely prescribed drugs and are generally very well tolerated by patients," Ramakrishna said. "I think as we explore targeted therapies in cancer and begin to individualize treatments for patients, there will continue to be growing interest in pre-existing medications to see if they can decrease cancer growth through alternate mechanisms."